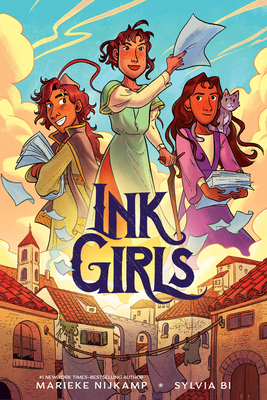 Ink Girls
Publication Date:
November 21st, 2023
Publisher:
Greenwillow Books
Usually Ships in 1 to 5 Days
A young printer's maestra gets arrested for publishing the truth of a political leader's corruption. This is a powerful story of a group of young people who come together in friendship and for a greater purpose: to stand up for the truth.
November/December 2023 Kids' Indie Next List
Description
"In this vibrant story about the power of the printed word and the strength of found families, every page is bursting with life and detail." —Ethan Aldridge, creator of the bestselling Estranged
"Fabulous!" —Dan Santat, award-winning author of A First Time for Everything
"Glorious! This empowering read is absolutely unforgettable." —Ellen Oh, acclaimed author of Finding Junie Kim
Every secret is a story waiting to happen.
From New York Times bestselling author Marieke Nijkamp and illustrator Sylvia Bi, this debut middle grade graphic novel celebrates the power that everyone—even those often overlooked—has to create change. In a vibrant city, two girls from very different walks of life join forces to fight censorship and protect the people they love.
Eleven-year-old Cinzia is a printer's apprentice. She adores Mestra Aronne for taking her in—most guilds don't have room for apprentices with a crippled leg—and she loves life in the raggedy workshop that smells of paper and printing, where secrets and stories are always circulating. So when Mestra Aronne is imprisoned for publishing accusations against the ruling family, Cinzia will do anything to prove that Mestra Aronne only told the truth.
Elena is the exact same age as Cinzia, but she's forced to keep to her rooms and garden. To protect her, according to her mother. To protect the city, according to her uncle. Because Elena is not the charming, powerful noble her family wants her to be. According to them, she doesn't communicate well. She's too gullible and literal and struggles to understand other people.
After unexpectedly meeting face-to-face, the girls follow a trail of clues through their golden city, drawing supporters and learning more about their home and each other than they ever could have imagined. If one person—no matter how young—can change the course of history, just imagine what a whole flock of them could do.
Bestselling author Marieke Nijkamp and debut illustrator Sylvia Bi have crafted an indelible, vibrant story about finding and using your voice, perfect for fans of Lightfall, Tidesong, and The Prince and the Dressmaker.
Praise for Ink Girls
"This fabulous mystery celebrates the importance of truth and transparency—and Sylvia Bi's attention to detail is astonishing!" — Dan Santat, award-winning author of A First Time for Everything
"Glorious! With immersive world-building and brilliantly developed characters, this empowering read is absolutely unforgettable." — Ellen Oh, acclaimed author of Finding Junie Kim
"In this vibrant story about the power of the printed word and the strength of found families, every page is bursting with life and detail." — Ethan Aldridge, creator of the bestselling Estranged
"[Two] girls become caught in a web of political intrigue and urban corruption as they work to expose treachery and make a better world. . . . Drawn in warm jewel tones and embellished with charming details . . . Bi's meticulous, lively art captures the bustling streets and a sense of adventure around every corner. . . . Cinzia navigates her world as a cane user whose disability never excludes her from the action. Elena's neurodivergence is presented as an asset . . . A topical ode to truth-telling and community." — Kirkus Reviews
"A feel-good graphic novel about truth, friendship, and grassroots power . . . When Cinzia and Mestra are arrested for printing an unflattering truth about the corrupt Lord Magistrate . . Cinzia soon finds allies in young Contessina Elena, pirate Carlotta, and hijabi Aneeqah; together they endeavor to free Mestra while also investigating the Magistrate's corruption to restore trust throughout Siannerra. . . . Savvy readers will notice commentary on the contemporary political landscape in this high-stakes story of communal action." — Publishers Weekly
"This energetic and optimistic graphic novel overflows with collectivism and an activist spirit. . . . Friendship, family, home, and political risk-taking are thoughtfully presented through well-paced dialogue and inset boxes showcasing characters' inner thoughts. . . . This lively, inclusive, and engaging story is also a timely reminder of the value of a free press." — Horn Book Magazine