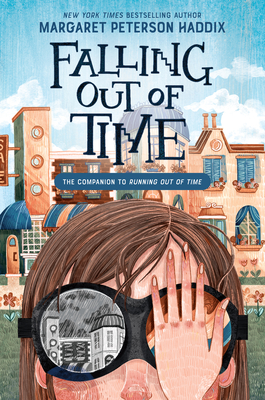 Falling Out of Time (Running Out of Time #2)
Publication Date:
May 30th, 2023
Publisher:
Katherine Tegen Books
Usually Ships in 1 to 5 Days
Description
Return to the world of the bestselling Running Out of Time with this middle grade thriller from Margaret Peterson Haddix, where Zola discovers she's related to Jessie Keyser and her seemingly perfect utopian world is covering up a dark reality.
Twelve-year-old Zola thinks she has the perfect life. She thinks everyone does, now that it's 2193, and humanity has solved all its problems. Insta-Closets deliver new clothes every morning, Insta-Ovens deliver gourmet meals on demand, and virtual reality goggles let her have any adventure she wants, with friends from all over the world.
Then one day Zola finds a handwritten note in her Insta-Closet:
If you want to see things as they really are, come find me. 
What if Zola's wrong about everything—even the year? As she struggles to figure out who wrote the note, she discovers a printed book in her Insta-Closet called The Jessie Keyser Story: How One Girl Escaped from Clifton Village. Zola wonders: Who is Jessie Keyser, and why does she look like her . . . and what else do they have in common?
In this sequel to the classic novel Running Out of Time, Margaret Peterson Haddix has crafted a riveting page-turner that captures the terrors of a world where nothing seems real—but finding out who really loves you still matters.
Praise for Falling Out of Time (Running Out of Time #2)
"Haddix's premise and plotline are strong on raw appeal, so fans of the original story who are primed to cheer for Zola will be. . . pleased." — Kirkus Reviews
PRAISE FOR BOOK 1, RUNNING OUT OF TIME: "The action moves swiftly, with plenty of suspense, and readers will be eager to discover how Jessie overcomes the obstacles that stand in her way… This book will appeal to fans of time-travel or historical novels as well as those who prefer realistic contemporary fiction, all of whom will look forward to more stories from this intriguing new author." — School Library Journal (starred review)
PRAISE FOR REMARKABLES: "Haddix realistically portrays Charlie's distress at his parents' addiction and shows how Charlie's identification with his father leaves him nearly incapable of imagining happiness for himself. Ultimately, Marin discovers that her and Charlie's role might not be in changing the past but rerouting the future. VERDICT Gripping, heartfelt, thoughtful and fun, Remarkables will delight readers of both tween realism and time-travel fantasy." — School Library Journal (starred review)
"As ever, Haddix plots her satisfying mystery with careful touch points and reveals. But it is her smart exploration of the past's legacy and sensitively painted family dynamics—from Marin's exhausted but joyful parents to Charley's difficult family story—that make this story remarkable." — Publishers Weekly
"Blending issues that matter to young adolescents with intrigue and a surprise ending, Haddix proves why she's a master of middle-grade fiction." — Kirkus Reviews
PRAISE FOR GREYSTONE SECRETS #1: THE STRANGERS: "A satisfying third-person narrative that portrays the complex anxieties and internal lives of close, caring family members grappling with a single set of extraordinary circumstances—separately and together. A secret-stacked, thrilling series opener about perception, personal memories, and the idiosyncrasies that form individual identities." — Publishers Weekly (starred review)
"Maintains suspense from the beginning to the cliffhanger ending. A high-stakes adventure full of teamwork with a multifaceted mystery and complex themes." — Kirkus Reviews
"Haddix returns with another mystery/adventure/science-fiction hybrid filled with twists, turns, and political undertones in the nefarious intentions of the alternate world. This first installment ends expectedly with a cliffhanger that is sure to leave readers wanting more." — Bulletin of the Center for Children's Books