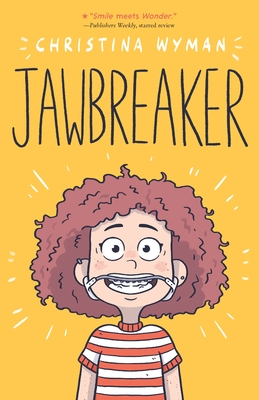 Jawbreaker
Publication Date:
October 24th, 2023
Publisher:
Farrar, Straus and Giroux (BYR)
Usually Ships in 1 to 5 Days
Jawbreakeris a coming-of-age debut layered with preteen angst, family dynamics, the power of friendships, and self-confidence. This book was instantly relatable and down to earth, with an honest, raw look at everyday issues.
November/December 2023 Kids' Indie Next List
Description
A USA Today bestseller perfect for fans of Raina Telgemeier's Smile, this refreshingly honest middle-grade debut novel is about toxic sibling rivalry, socioeconomic disparity, and dental drama.
Max Plink's life is complicated. Her parents aren't getting along. The school bullies are relentless—and her own sister is the cruelest of them. Worst of all, her mouth is a mess. With a mismatched puzzle of a jaw, Max has a Class II malocclusion, otherwise known as a severe overbite. She already has braces, which means she lives on Advil and soft foods after each orthodontist appointment. But now Max has to wear painful (and totally awkward) orthodontic headgear nicknamed "the jawbreaker." Could things get any worse?
Yes. The journalism competition Max wants to enter has a video component. But being on camera means showing her face not just to her junior high classmates, but possibly the whole city. Going viral is the last thing Max needs, but winning this competition is what she wants most. Turns out, following her dreams is complicated, too.
Inspired by Christina Wyman's own experience with a Class II malocclusion, Jawbreaker is a humorous, heartfelt, and refreshingly relatable story.
Praise for Jawbreaker
A USA TODAY BESTSELLER
An Indies Introduce Pick
A Kids' Indie Next Pick
A Kirkus Reviews Bestseller
A Publishers Weekly Best Book of the Year
A Kirkus Reviews Best Book of the Year
An Amazon Best Book of the Year for Ages 9-12
An Amazon Best Book of the Month for Ages 9-12
A Barnes & Noble Most Anticipated Kids' Book of the Month
A Junior Library Guild Selection
A Pop! Goes the Reader Most-Anticipated Middle Grade Books: October-December 2023
A Reading Middle Grade Best Middle Grade Books of the Year
"Inspired by her own life experiences, in her debut, Wyman explores typical junior high stresses such as navigating friendships while deftly exploring serious topics like toxic family dynamics, substance abuse, and the psychological toll of bullying. Interwoven with the weight of heavy topics is a message of hope, perseverance, and self-acceptance presented in a humorous and relatable way. It's this accessible, balanced approach to painful and emotionally charged situations that makes this book so wildly successful . . . A hugely relatable must-read: witty, intensely emotional, and full of heart." —Kirkus Reviews, starred review
"Smile meets Wonder in Wyman's affirming debut . . . Portraying complex social concepts with nuance, Max's candid, accessible first-person narration propels her growing pains and journey toward empowerment, leading to a hopeful conclusion emphasizing the idea that 'no one should have to look perfect just to be treated well.'" —Publishers Weekly, starred review
"Heartfelt and often heartbreakingly realistic . . . Wyman demonstrates an impressive ability to conjure up both the pain and delight of middle school with immediacy and empathy. An impassioned author's note reveals that Wyman's own background inspired this sometimes harrowing, but ultimately hopeful, story. 'Sometimes finding joy takes a lot of work,' she notes. Reading Jawbreaker is an excellent and highly gratifying start." —BookPage, starred review

"Readers will relate to Max's experiences dealing with bullies, trying to complete assignments without the technological resources of her peers, navigating changing family dynamics, and enduring typical preteen angst . . . This heartfelt story about a common middle school experience of having braces will appeal to fans of Raina Telgemeier's Smile." —School Library Journal
"Wyman's debut is a wonderfully messy slice of life that gives space to kids dealing with bullying, sibling conflict, economic insecurity, and parents coping with divorce and alcoholism . . . An inspiring underdog tale." —Booklist

"Wyman has made an engaging novel with a realistic rendering of both the well of love but also the bitterness that can fester in families as they go through rough patches . . . An emotionally gripping story about a girl from a struggling working-class family with a story to tell." —The Bulletin of the Center for Children's Books
"Wyman is unafraid to treat her readership like intelligent human beings capable of contemplating a complex story full of self-doubt, bullying, economic disparities, justice, and equity . . . Plus, it's horribly difficult to put down! I dare you to read even two chapters and not be engulfed in the narrative. Smart and savvy, Jawbreaker is the novel you wish you had read as a kid and are grateful that kids get to read today." —Betsy Bird, A Fuse #8 Production, A School Library Journal Blog
"After finishing this book, I found myself with more empathy for the humans around me . . . Life is hard (especially in middle school and most definitely with orthodontia) and Max Plink is a great flagbearer to remind us to be kind to each other." —Christina Batten, Schuler Books Bookseller
"An honest, funny, and gut-wrenching tale of bullying, family conflict, and orthodontia." —Alyssa Raymond, Copper Dog Books Bookseller
"Funny and relatable." —Jenny Carney, co-founder of Sidetrack Bookshop