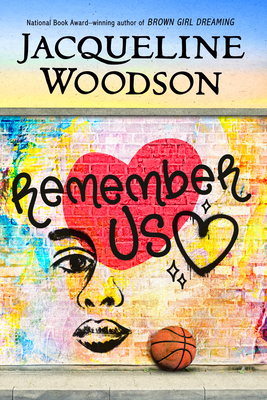 Remember Us
Publication Date:
October 10th, 2023
Publisher:
Nancy Paulsen Books
Usually Ships in 1 to 5 Days
With language both razor-sharp and achingly poetic, Woodson offers insights — no easy answers or empty platitudes — on grief, time, memory, and identity. A searing examination of friendship and what we're forced to leave behind as we grow.
November/December 2023 Kids' Indie Next List
Description
National Book Award winner Jacqueline Woodson brings readers a powerful story that delves deeply into life's burning questions about time and memory and what we take with us into the future.
It seems like Sage's whole world is on fire the summer before she starts seventh grade. As house after house burns down, her Bushwick neighborhood gets referred to as "The Matchbox" in the local newspaper. And while Sage prefers to spend her time shooting hoops with the guys, she's also still trying to figure out her place inside the circle of girls she's known since childhood. A group that each day, feels further and further away from her. But it's also the summer of Freddy, a new kid who truly gets Sage. Together, they reckon with the pain of missing the things that get left behind as time moves on, savor what's good in the present, and buoy each other up in the face of destruction. And when the future comes, it is Sage's memories of the past that show her the way forward. Remember Us speaks to the power of both letting go . . . and holding on.
Praise for Remember Us
"Exceptional. . . . Written in lyrical prose, Remember Us is a poetic time capsule from the 12-year-old Sage, an African American girl living in the Bushwick section of Brooklyn during the 1970s. . . . What struck me about this novel was not only its commemoration of those horrific Bushwick fires . . . but also how Woodson conjures such a captivating, elegiac story from their ashes. . . . Will help tweens process their grief after trauma." —The New York Times Book Review
* "An African American tween's world is turned upside down by mysterious fires in her neighborhood and by self-doubt as she comes of age. . . . Drawing on her own experiences growing up in Brooklyn's Bushwick neighborhood during the '70s and '80s, Woodson has crafted a beautifully lyrical narrative of change, healing, and growth. Her ability to evoke time and place is masterful; every word feels perfectly chosen. Sage is an irresistible character with a rich interior life, and her relationships with her mother and her friend Freddy are exceptionally well drawn. An exquisitely wrought story of self and community." —Kirkus Reviews, starred review
* "Another remarkable ode to Brooklyn and memory from the incomparable National Book Award winner. . . . Set during the 1970s, this nostalgia-tinged novel takes place when Bushwick was known as 'The Matchbox' because of the fires that plagued its streets. . . . The often wistful text is lyrical, but the nostalgia never overwhelms the narrative. Woodson's economy of language expertly presents the microcosm of Sage's community of friends and neighborhood kids and the macrocosm of the external world that threatens to destroy it. Sage's journey to finding herself while trying to navigate these two worlds will resonate with readers young and old. The power of community and friendship permeates every word in this middle grade novel for all readers. A truly masterly work."—School Library Journal, starred review
* "This lyrical first-person upper middle-grade novel taps into a wide array of emotional truths and preteen sensibilities. Passages on loss and memory feature palpable sadness, but there is also a tender exploration of the enduring power of friendship and love, the discovery of inner strength and resilience, and the need to balance an appreciation for what 'once was' and what may be. Woodson again delivers an appealing protagonist whose voice will resonate with readers in a nuanced coming-of-age story worth remembering." —Horn Book, starred review
* "Woodson draws on her experiences growing up in Bushwick in the 1970s and '80s to craft a nostalgic-feeling ode to the unexpected. Short chapters offer swift glimpses into momentous happenings in Sage's life, while organic dialogue and mesmerizing prose lay bare a narrative that encourages learning to move with the ebbs and flows of life." —Publishers Weekly, starred review
 
* "The deeply moving novel from National Book Award winner Woodson is both elegant and accessible, and the novel-in-verse approach works wonderfully here, with occasional chapters consisting of only a few dramatic lines. Bushwick and its inhabitants are fully fleshed out with incredible detail and immense tenderness, and Sage immediately feels like a dear friend. A poignant portrayal of a historic neighborhood and an outstanding ode to the grief and gift of growing older. Woodson is one of the most esteemed figures in children's publishing, and her historical fiction especially can't be missed." —Booklist, starred review
"The emotions and challenges feel ever current. . . . The slice-of-life narrative steers readers through weighty emotions and contemplations on friendship, grounding the connections between notions of identity, family, and home with tactile imagery. The vividness of Sage's world gives an urgency to the story, calling up the immediacy of youth, while the reflective tone softens some of the more painful memories, assuring to children that these things will pass, and that fires will not burn forever." —The Bulletin of the Center for Children's Books
* "Packs an understated but powerful punch. . . . Sage's deep sense of nostalgia intertwines with a palpable fear of those fires, which act as a metaphor for Sage's recognition that her body and her world are changing: The present is constantly turning into the 'once was.' . . . Remember Us has the feel of a new classic, ageless in its universal themes while wonder­fully rendering a spe­cific time and place. The pure magic of this novel is that Woodson somehow makes read­ers feel as though they are experiencing these moments of growing up along with Sage. Woodson flawlessly intersperses explosive moments—and games of basketball—among quiet, reflective scenes while responding to Sage's weighty fears with reassurance about the permanence of loving memories." —BookPage, starred review
* "National Book Award-winner Jacqueline Woodson uses personal experience to honor her childhood in Remember Us, a poignant work of middle-grade historical fiction about how a little-known event shapes one girl's transition to young woman. . . . Woodson expertly frames Sage's feelings about this awkward life transition through text that is gentle yet lands with force and aching accuracy. . . . Sage's lyrical, accessible first-person narration features a history lesson hidden within the dynamic experience of Woodson's rounded characters. Fans of Woodson should appreciate this novel, which builds and expands upon some of the autobiographical aspects of Brown Girl Dreaming."—Shelf Awareness, starred review