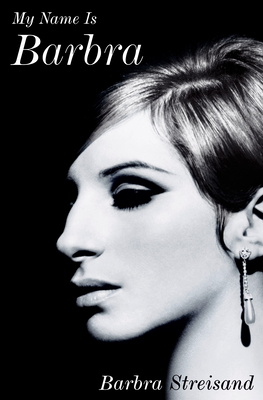 My Name Is Barbra
Publication Date:
November 7th, 2023
Usually Ships in 1 to 5 Days
Description
The long-awaited memoir by the superstar of stage, screen, recordings, and television

Barbra Streisand is by any account a living legend, a woman who in a career spanning six decades has excelled in every area of entertainment. She is among the handful of EGOT winners (Emmy, Grammy, Oscar, and Tony) and has one of the greatest and most recognizable voices in the history of popular music. She has been nominated for a Grammy 46 times, and with Yentl she became the first woman to write, produce, direct, and star in a major motion picture. In My Name Is Barbra, she tells her own story about her life and extraordinary career, from growing up in Brooklyn to her first star-making appearances in New York nightclubs to her breakout performance in Funny Girl on stage and winning the Oscar for that performance on film. Then came a long string of successes in every medium in the years that followed. The book is, like Barbra herself, frank, funny, opinionated, and charming. She recounts her early struggles to become an actress, eventually turning to singing to earn a living; the recording of some of her acclaimed albums; the years of effort involved in making Yentl; her direction of The Prince of Tides; her friendships with figures ranging from Marlon Brando to Madeleine Albright; her political advocacy; and the fulfillment she's found in her marriage to James Brolin.
 
No entertainer's memoir has been more anticipated than Barbra Streisand's, and this engrossing and delightful book will be eagerly welcomed by her millions of fans.
Praise for My Name Is Barbra
Praise for My Name Is Barbra

"A 970-page victory lap past all who ever doubted, diminished or dissed her. . . . Exuberant and glorious. . . . There are just so many scintillating Streisands to contemplate over so many years: singer, actress, director, producer, philanthropist, activist, lover, mother, wife, friend, autobiographer."
—Alexandra Jacobs, New York Times Book Review

"The book is undeniably moving—it does not, even for a moment, read as false. . . . Streisand's chatty, discursive presence hums on every page. . . . Riveting . . . . All the usual memoir forms rear their heads. There's the sob story, the gallant bildungsroman, the louche chronicle of various addictive behaviors, the righteous making of an activist, the victory lap. Streisand's book, in its sheer breadth and largesse, attempts to be all of these things, and thus becomes something incredibly rare. . . . If something interests her, then it is interesting, full stop. In a way, she draws on an old-fashioned idea of celebrity: to be a star is to be golden, and to make everything you touch look the same. . . . Streisand has never thought it necessary to contain herself, and there's no reason to start now."
—Rachel Syme, The New Yorker
"The celebrity memoir I've coveted most is that of the singular Ms. Barbra Streisand. . . . We don't see a diva, we see a genius. . . .  In a society that tends to value women's passivity while lauding their accomplishments in hindsight, it's a distinct pleasure to look back with My Name Is Barbra and marvel at how the real she came to be."
—Brittany Luse, NPR
 
"[My Name Is Barbra is] enlightening. It's shake-your-head funny and hand-to-mouth surprising. The lady who wrote it is in touch with herself, loves being herself. . . . Streisand's boundlessness, her capaciousness — the lack of precedent for her whole-enchilada ambitions, the daffiness, the sexiness, the talent, orchestration, passion, originality; her persistence and indefatigability; the outfits; the hair — were a watershed."
—Wesley Morris, The New York Times
 
"Everything you could want from a Barbra Streisand memoir. . . . Scintillating. . . . The memoir is as sharp, funny and refreshingly candid as Streisand herself."
—USA Today

"A gloriously massive memoir from a sui generis star. . . . What a talent, what a career, what a life, and what a treat to relive it all with this most down-to-earth of demigods."
—Kirkus Reviews (starred review)
"Charming . . . funny . . . . Chatty and sincere, the book reads like a conversation, complete with asides and self-corrections. . . . The effect is like she's sharing coffee cake with us. . . . It feels like it's Streisand telling us all the things she's wanted to say for all of her 81 years on Earth. . . . If you've ever been a fan, even if it has been a while, I can't imagine you'd want to miss it."
—Chris Hewitt, Minneapolis Star Tribune
"My Name Is Barbra dispels rumors and myths but doesn't hold back on scintillating tales of love affairs, on-set drama and unfiltered anecdotes about her discomfort with fame."
—Los Angeles Times

"The question of her talent was never really in doubt. . . . In Streisand's book, though, there's more than just talent; we are shown craft, intelligence, a winning, rare curiosity."
—Independent