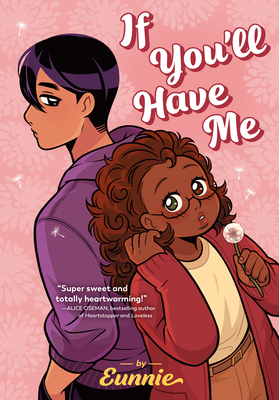 If You'll Have Me
Publication Date:
October 17th, 2023
Publisher:
Viking Books for Young Readers
Usually Ships in 1 to 5 Days
In her first year of university, kind, anxious Momo develops a crush on PG, an unattainable player known for her many one-night stands. Can they let their guards down and allow love to bloom? A cute WLW graphic novel for fans ofHeartstopper.
November/December 2023 Kids' Indie Next List
Description
"Super sweet and totally heartwarming!"—Alice Oseman, bestselling author of Heartstopper and Loveless

Momo Gardner is the kind of friend who's always ready to lend a helping hand. She's introverted, sensitive, and maybe a little too trusting, but she likes to believe the best in people. PG, on the other hand, is a bit of a lone wolf, despite her reputation for being a flirt and a player. Underneath all that cool mystery, she's actually quick to smile, and when she falls for someone, she falls hard. An unexpected meet-cute brings the two together, kicking off the beginning of an awkward yet endearing courtship—but with their drastically different personalities, Momo's overprotective friend, and PG's past coming back to haunt her, Momo and PG's romance is put to the test.
Praise for If You'll Have Me
"Incredibly charming . . . There's joy, delight, and absolutely unrestrained romantic sweetness on every page. I love it to bits!" —TRUNG LE NGUYEN, author of the Eisner Award nominee The Magic Fish
* "Eunnie's lively, expressive style expertly combines classic shoujo manga flair with visually poppy cartoon elements, depicted in saturated jewel tones, that amplify key moments and the work's dreamy ambiance. Distinctly designed characters portrayed with varying body types and skin tones, and boasting amicable personalities, bring PG and Momo's college campus to life, cultivating a rollicking environment in which the girls' relationship blossoms."—Publishers Weekly, starred review
* "Delights in the small joys of falling in love . . . An absolutely charming read for anyone interested in romance and relationship building." --Booklist, starred review
"Readers will fall in love with both young women as they fall in love with each other. Their conflicts give them depth and feel believable for their stage of life, their different but equally relatable backstories are fleshed out, and the satisfying resolution inspires happiness. Well-developed friendships play smaller but still important roles. The appealing artwork features clean, pastel-tinted backgrounds and doe-eyed characters with expressive faces . . . Utterly charming and swoonworthy."—Kirkus Reviews