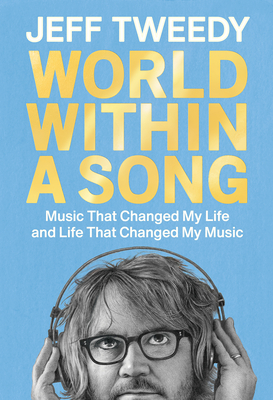 World Within a Song: Music That Changed My Life and Life That Changed My Music
Publication Date:
November 7th, 2023
Usually Ships in 1 to 5 Days
Description
~New York Times Bestseller~
An exciting and heartening mix of memories, music, and inspiration from Wilco front man and New York Times bestselling author Jeff Tweedy, sharing fifty songs that changed his life, the real-life experiences behind each one, as well as what he's learned about how music and life intertwine and enhance each other.
What makes us fall in love with a song? What makes us want to write our own songs? Do songs help? Do songs help us live better lives? And do the lives we live help us write better songs? 
After two New York Times bestsellers that cemented and expanded his legacy as one of America's best-loved performers and songwriters, Let's Go (So We Can Get Back) and How to Write One Song, Jeff Tweedy is back with another disarming, beautiful, and inspirational book about why we listen to music, why we love songs, and how music can connect us to each other and to ourselves. Featuring fifty songs that have both changed Jeff's life and influenced his music—including songs by the Replacements, Mavis Staples, the Velvet Underground, Joni Mitchell, Otis Redding, Dolly Parton, and Billie Eilish—as well as Jeff's "Rememories," dream-like short pieces that related key moments from Jeff's life, this book is a mix of the musical, the emotional, and the inspirational in the best possible way.
Praise for World Within a Song: Music That Changed My Life and Life That Changed My Music
"The Wilco frontman delves into his inspiring relationship with music through 50 songs (from "Gloria" to "Free Bird") and adds heart-wrenching memories of childhood friendship, gun-wielding tour bus drivers and more. If life's a movie, Tweedy's has a pretty great soundtrack." —People

"A beautiful, effervescent, and introspective journey." —Shelf Awareness

"Tweedy's storytelling skills are as sharp as his songcraft…a joy to read." —Performer Magazine
"It's the chance to see the master at work if you will, even though World Within a Song is entirely about other people's songs." —American Songwriter
"Tweedy is a smart, witty and empathetic writer. His unabashed joy in introducing readers to the music that delights him is infectious and will unleash a flood of associations and memories for anyone who shares that passion." —BookPage

"Tweedy's way with words shine with shimmering eloquence." —Grammys
"Tweedy hits the page with approachable, almost-conversational prose (what's the opposite of a music snob?) while still providing the reader with tight, evocative sentences sprinkled with silly witticisms, heartfelt anecdotes, pop-culture references and, of course, music history...Tweedy's writing helps readers relive their own little flashbacks, as if they were listening to an old, cherished tune." —Brooklyn Magazine

"Every chapter of World Within a Song is a little gem, offering insights not only on the song on which it focuses and the reasons it sang and continues to sing — or not — to Tweedy, but also more depth on what it means to write a song that continues shape listeners' lives." —Henry Carrigan, No Depression
"You won't even have to already love Wilco to find joy in the experience of reading Jeff Tweedy's new book... Full of anecdotal pleasures that get at more universal truths about how we're shaped by art." —Variety
"A disarming, beautiful, and inspirational book about why we listen to music, why we love songs, and how music can connect us to each other and to ourselves... this book is a mix of the musical, the emotional, and the inspirational in the best possible way." —Rough Trade

"World Within a Song... is something like a book-length version of Pitchfork's own 5-10-15-20 interview series, where stray memories become reflexively intertwined with certain lyrics or melodies...Tweedy writes like he talks—direct, enthusiastic, relatable, self-aware when he's corny—and it's a quick and enjoyable read." —Pitchfork
"In his inimitable voice, [Tweedy] digs into the ways that songs invite us into the worlds within them, illustrating how music connects us to each other. He reveals how the sonic structure of a song can make us fall in love with it and how it lives within us, shaping and reshaping our experience of music and life whenever we hear it." —No Depression
"Mr. Tweedy's navigation of these songs is an entertaining and intimate read that gives us the opportunity to spend quality time with him." —Pittsburgh Post Gazette

"Here we've got humor merged with memoir; snippets of his life that feel so messy and real that you can't help but be drawn in." —Fatherly

"Notorious hilarious grump and frontman of Wilco shares his thoughts on songs by the Replacements, Mavis Staples, the Velvet Underground, Joni Mitchell, Otis Redding, Dolly Parton, and Billie Eilish." —All Music
"Following the generosity of the best-selling How to Write One Song (2020), Tweedy extends his largesse and candor in this delightfully inspiring blend of memoir and guidance." —Booklist
"A deeply personal, Dylan-esque, "philosophical" take on the works that have influenced him as a songwriter and a person… thoroughly entertaining." —Kirkus
"This entertaining and enlightening survey hits the right note." —Publishers Weekly

"In the same way that Jeff Tweedy is just miraculously there in every line he sings, he's here in these pages: disarmingly frank, relentlessly exploratory; funny, earnest, wide-open, and brilliant.  Like his songs, this book felt like a gesture of warm reassurance, an inspiring reminder of the role art can play in keeping a person alert to life and moving forward.  Tweedy is a generous, insanely gifted national treasure." —George Saunders, New York Times bestselling author of A Swim in a Pond in the Rain

"World Within a Song is a treasure trove, a crate of LPs left behind by a cooler sibling. It reveals the DNA of influence of a brilliant artist while feeling like a cherished mixtape gifted to you by an old friend. It's equally an ode to music from one of the greatest songwriters of our time, punctuated by hilarious memories of a life spent in the music industry with its unique capacity for both sublime glamor and devastating humility. Jeff Tweedy's reverence for great songwriting...is infectious. Songs are our companions, bands are human scale miracles, and we should never forget it." —Michelle Zauner, New York Times bestselling author of Crying in H Mart