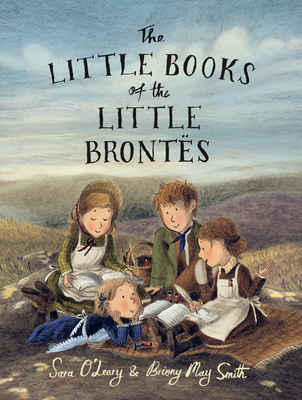 The Little Books of the Little Brontës
Publication Date:
October 17th, 2023
Usually Ships in 1 to 5 Days
The Little Books of The Little Brontësis wonderful! An adorable telling of the lives of the Brontë siblings as children and their fascination with telling stories. This is a perfect biography for any child interested in storytelling!
November/December 2023 Kids' Indie Next List
Description
The inspiring true tale of young siblings who loved to make stories — and grew up to be among English literature's finest writers. A picture book for fans of Mary Who Wrote Frankenstein.
Many years ago, the four motherless children of the Brontë family — Charlotte, Branwell, Emily and Anne — lived in a windswept house by the moors with their father. Although their lives were often filled with sadness and their world was only as large as the distance they could walk, their INNER worlds were bound only by their imaginations. Hungry for stories, these children devoured novels and poetry, history and fables. And with the gift of a group of toy soldiers, they were inspired to make their own stories, and their own tiny books . . . a passion that would last them a lifetime. 
A moving and atmospheric story about the power of imagination, the joy of storytelling and the love of books, The Little Books of the Little Brontës will enchant both those who love these literary sisters and those who are learning about them for the first time. Includes an author's note, timeline of the Brontës' lives and a fun craft with instructions on creating your own little book.
Praise for The Little Books of the Little Brontës
"In a deeply sensitive work, O'Leary (Gemma and the Giant Girl) and Smith (The Mermaid Moon) focus on the diminutive volumes that Charlotte, Anne, Emily, and Branwell Brontë made for each other as children living in austere circumstances." —STARRED REVIEW, Publishers Weekly

"This charming celebration of reading and writing is one for the books." —STARRED REVIEW, Booklist
"Exquisitely crafted text and illustrations convey an emotionally resonant tale of resilient family bonds and the lasting joy of stories." —STARRED REVIEW, School Library Journal
"Achingly beautiful . . . A sublime blend of tender and thoughtfully playful writing and bucolic, rosy-cheeked mixed media illustrations, this is an exceptional picture book." —STARRED REVIEW, Quill & Quire
"Splendidly affirming for young readers, writers, and artists." —Kirkus Reviews
"A joyous, beguiling introduction to these Victorian writers." —The Horn Book
"The Little Books of The Little Brontës is wonderful! An adorable telling of the lives of the Brontë siblings as children and their fascination with telling stories. This is a perfect biography for any child interested in storytelling!" —Olivia Hoover, Book Passage, Corte Madera, CA