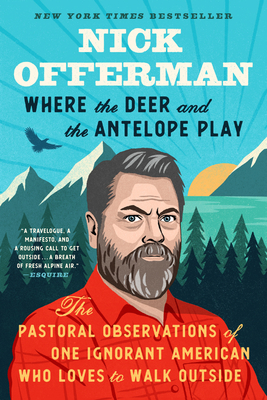 Where the Deer and the Antelope Play: The Pastoral Observations of One Ignorant American Who Likes to Walk Outside
Publication Date:
October 3rd, 2023
Description
A humorous and rousing set of literal and figurative sojourns as well as a mission statement about comprehending, protecting, and truly experiencing the outdoors, fueled by three journeys undertaken by actor, humorist, and New York Times bestselling author Nick Offerman

Nick Offerman has always felt a particular affection for the Land of the Free—not just for the people and their purported ideals but to the actual land itself: the bedrock, the topsoil, and everything in between that generates the health of your local watershed. In his new book, Nick takes a humorous, inspiring, and elucidating trip to America's trails, farms, and frontier to examine the people who inhabit the land, what that has meant to them and us, and to the land itself, both historically and currently.  
In 2018, Wendell Berry posed a question to Nick, a query that planted the seed of this book, sending Nick on two memorable journeys with pals—a hiking trip to Glacier National Park with his friends Jeff Tweedy and George Saunders, as well as an extended visit to his friend James Rebanks, the author of The Shepherd's Life and English Pastoral. He followed that up with an excursion that could only have come about in 2020—Nick and his wife, Megan Mullally, bought an Airstream trailer to drive across (several of) the United States. These three quests inspired some "deep-ish" thinking from Nick, about the history and philosophy of our relationship with nature in our national parks, in our farming, and in our backyards; what we mean when we talk about conservation; and the importance of outdoor recreation, all subjects very close to Nick's heart. 
With witty, heartwarming stories and a keen insight into the human problems we all confront, this is both a ramble through and celebration of the land we all love.
Praise for Where the Deer and the Antelope Play: The Pastoral Observations of One Ignorant American Who Likes to Walk Outside
*An Amazon Best of the Month Pick*
"At once a travelogue, a manifesto, and a rousing call to get outside, Where the Deer and the Antelope Play is a breath of fresh alpine air, delivered by an amiable guide." —Esquire
"The book is an amiable ramble outdoors, with Offerman sharing his assorted experiences in the wild and his musings on nature, land use, labor, agriculture, and community." —USA Today
 
"Honest-to-God advice about how to enjoy nature." —Outside magazine

"Offerman brings dry humor and a reverence for nature and physical labor to his growing understanding of capitalist and colonial horrors, all while maintaining hope for the future." 
 —Seattle Times

"I found the book both entertaining and inspiring. . . . [It] has depths you may not expect from an actor/comedic performer/woodworker who goes to great lengths to entertain the audience but also has me thinking about the choices I make as I live in the world." —John Warner, Chicago Tribune
"Offerman's thoughtful and hilarious musings at the nexus of human life and nature, particularly through the lens  of John Muir and Aldo Leopold . . . serves another welcome reminder that nature is for all." —
"Funny, extremely sharp, and at the same time equally heartwarming, Offerman's love for the Land of the Free shines." —Forbes
"A timely hybrid travelogue/manifesto about the utter importance of touching grass, and so much more." —Fast Company
"[An] insightful, witty look at his outdoorsy pursuits." —New York Post
"A great mix of wit and perceptive observation from travels in the United States and the United Kingdom . . . with a surprising amount of history, nature, and ecology thrown in."—Library Journal
"Laced with humor, intellect, and fierce passion, Where the Deer and the Antelope Play is an entertaining getaway to a variety of unexpected American vistas."—BookPage