New Release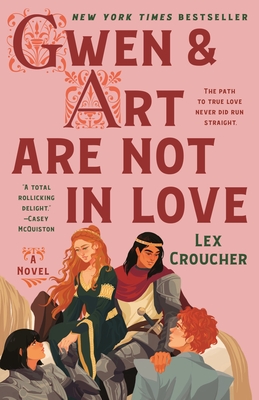 Gwen & Art Are Not in Love: A Novel
Publication Date:
November 28th, 2023
Publisher:
Wednesday Books
Usually Ships in 1 to 5 Days
Inspired by Arthurian legend, Croucher's tale centers a princess, her fiancé, and the queer love they feel for other people. A tale full of heart about the courage it takes to embrace love and yourself. I never wanted this book to end.
November/December 2023 Kids' Indie Next List
Description
An Instant New York Times Bestseller!
"A total, rollicking delight. Gwen & Art gave me the same cheeky, swoony, giddy, irresistible high of the first time I saw A Knight's Tale. Lex Croucher is one of my favorite romcom authors, and they should be yours, too." - Casey McQuiston, #1 New York Times bestselling author of I Kissed Shara Wheeler

Heartstopper meets A Knight's Tale in this queer medieval rom com YA debut about love, friendship, and being brave enough to change the course of history.
It's been hundreds of years since King Arthur's reign. His descendant, Arthur, a future Lord and general gadabout, has been betrothed to Gwendoline, the quick-witted, short-tempered princess of England, since birth. The only thing they can agree on is that they despise each other.
They're forced to spend the summer together at Camelot in the run up to their nuptials, and within 24 hours, Gwen has discovered Arthur kissing a boy and Arthur has gone digging for Gwen's childhood diary and found confessions about her crush on the kingdom's only lady knight, Bridget Leclair.
Realizing they might make better allies than enemies, they make a reluctant pact to cover for each other, and as things heat up at the annual royal tournament, Gwen is swept off her feet by her knight and Arthur takes an interest in Gwen's royal brother. Lex Croucher's Gwen & Art Are Not in Love is chock full of sword-fighting, found family, and romantic shenanigans destined to make readers fall in love.
"In this frivolous medieval romp of a queer rom-com, Lex Croucher toys with Arthurian legend to delightful effect." - Entertainment Weekly
"Fun and genuinely funny, with lovely friendships and first-rate dialogue. Gwen and Art may not be in love, but I fell for both of them." - Rainbow Rowell, #1 New York Times bestselling author of the Simon Snow trilogy
"Gwen & Art Are Not in Love was exactly what I needed right now—a delightful, heart-warming, hilarious historical romp, overflowing with queer panic and terrible jokes. I loved it." - Alice Oseman, New York Times bestselling author of the Heartstopper series
Praise for Gwen & Art Are Not in Love: A Novel
An Instant New York Times Bestseller!
An Instant USA Today Bestseller!
An Instant Indie Bestseller!
A November/December 2023 Kids' Indie Next Pick!
One Of Amazon's Best Books of December!

"In this frivolous medieval romp of a queer rom-com, Lex Croucher toys with Arthurian legend to delightful effect." - Entertainment Weekly

B&N Reads, "Our Most Anticipated YA Books of November/December 2023"
Book Riot, " November 2023 Horoscopes and Book Recommendations"
Distractify, "TikTok Favorite Sequels, Fantasy Novels, and Historical Fiction for Your November 2023 TBR"
Epic Reads, "LGBTQ+ Books We Can't Wait to Read in 2023" and "The 30 Must Read Books for the Rest of 2023"
Goodreads, "2023's Most Anticipated Young Adult Books" and "45 Great New YA Historical Fiction Novels to Read in 2023"
Lambda Literary, "November's Most Anticipated LGBTQIA+ Literature"
PopSugar, "Young-Adult Books to Add to Your Reading List in November" and "All the New Books to Read This November"
The Nerd Daily, "11 Mythology Inspired Book Releases To Look Forward To In 2023"
"Croucher's simultaneously sharp and subtle prose boasts delicious banter and a propulsive story populated by intersectionally diverse characters whose interactions feel fresh and vital through the novel's climactic conclusion." - Publishers Weekly (starred review)
"Lex Croucher offers readers a quirky, queer Arthurian remix in which lighthearted, entertaining banter alternates with political machinations and intense battlefield scenes." - BookPage (starred review)
"A wonderful expansion of the YA romance genre...Frankly a delight." - Kirkus
"A high-spirited medieval adventure with a modern heart." - Booklist
"A humorous and charming ode to found family and true love, this queer YA novel is a perfect find for fans of Merlin and Alice Oseman novels." - In Between Drafts, "The Best New Books of November"
"Every time I think about this book, which has the royals-in-love (though not with each other!) vibes of Red, White & Royal Blue yet set in a distinctly A Knight's Tale-esque setting, I just grin...Every autumn should have at least one queer remixed SFF romp like this." - LitHub, " November's Best Sci-Fi and Fantasy Books"
"An enjoyable Arthurian-adjacent story with a charming cast of diverse queer characters, Gwen & Art Are Not In Love applies a modern sensibility to its historical roots...A sweet, lighthearted story about friendship and found family, with a dash of popular romance tropes on top." - Paste Magazine, "The Best New YA Books of November 2023"
"If you have an afternoon and a fireplace and a cat and a cup of something hot and any amount of fondness for a romance novel, this will surely satisfy." - XTra Magazine
"Swoonworthy, hilarious and full of witty repartee, this gorgeous historical romance will sweep readers off their feet." ― The Bookseller Teen & YA Editor's Choice
"Lex Croucher's debut young adult novel is crowned a huge success...Gwen and Art are not in Love is the perfect book to read after a long day, and can be finished all in one sitting but will leave a lasting impression." - Children's Books Ireland
"[A] fun Knight's Tale-esque medieval story that's part romantic romp, part subversive comedy, and all kinds of brilliant." - Culture Fly, "12 Must-read YA Books for Summer 2023"
"Finally… A historical rom-com that's queer as hell. And fun! Pitched as 'A Knight's Tale' meets 'Heartstopper', this medieval story has everything: sword-fighting, sharp wit and ridiculous shenanigans to warm the heart." - Gay Times, "11 LGBTQ+ Books to Read This Summer"
"Smart dialogue drives this outrageously entertaining take on the fake dating trope." - The Guardian (UK)
"A queer Knight's Tale (that should persuade you already) this rom-com has a glittering cast of adorable characters, cheeky world-building (the royalty are so obsessed with their potentially magic lineage to King Arthur that there's a court wizard) and more witty repartee than you can shake a sword at…Croucher writes with vivid exaggeration and touching relatability the wild adventures of love and lust, yearning and horniness. We all dutifully pledge allegiance."- LoveReading
"A queer medieval romp with contemporary sensibilities...Smart dialogue drives this outrageously entertaining take on the fake dating trope." ― Observer
"A total, rollicking delight. Gwen & Art gave me the same cheeky, swoony, giddy, irresistible high of the first time I saw A Knight's Tale. Lex Croucher is one of my favorite romcom authors, and they should be yours, too." - Casey McQuiston, #1 New York Times bestselling author of I Kissed Shara Wheeler
"Fun and genuinely funny, with lovely friendships and first-rate dialogue. Gwen and Art may not be in love, but I fell for both of them." - Rainbow Rowell, #1 New York Times bestselling author of the Simon Snow trilogy
"Gwen & Art Are Not in Love was exactly what I needed right now—a delightful, heart-warming, hilarious historical romp, overflowing with queer panic and terrible jokes. I loved it." - Alice Oseman, New York Times bestselling author of the Heartstopper series
"Congrats to Gwen and Arthur on their permanent acquisition of my ENTIRE heart. Suffice it to say that I loved this book to a degree that's slightly ridiculous." - Becky Albertalli, New York Times bestselling author of Kate in Waiting and Simon vs. the Homo Sapiens Agenda
"An utter delight. Croucher conjures a fresh new Camelot, full of jousts, hijinks and exuberantly queer characters that will make you swoon. This is the gay Camelot I always wanted!" - C.S. Pacat, New York Times bestselling author of Dark Rise

"This book does a flirty tango with the Arthurian legends while also sticking a KICK ME sign on their back: it contains enough sword fights and banter to keep the pages flying, but it's also a sharp and compassionate look at the terrifying wonder of being a queer young person coming to terms with yourself. Gwen and Art Are Not in Love is a work of hilarious and heart-mending genius. I read it in a joyous rush and I can't wait to buy it for literally everyone I know." - Freya Marske, nationally-bestselling author of A Marvellous Light
"This is the queer YA take on A Knight's Tale I've always dreamed of! A charming, witty, and completely unputdownable adventure." - Ava Reid, New York Times bestselling author of A Study in Drowning