New Release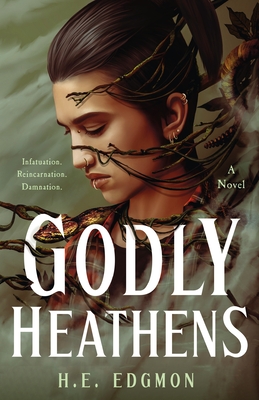 Godly Heathens: A Novel (The Ouroboros #1)
Publication Date:
November 28th, 2023
Publisher:
Wednesday Books
Usually Ships in 1 to 5 Days
This thoroughly queer Southern gothic gripped me from start to finish. A teenager discovers they are a reincarnated god. Add hormones, century-long feuds, high school woes, magic that shakes the earth…the resulting chaos is heavenly.
November/December 2023 Kids' Indie Next List
Description
Godly Heathens is the first book in H.E. Edgmon's YA contemporary fantasy duology The Ouroboros, in which a teen, Gem, finds out they're a reincarnated god from another world.
Maybe I have always just been bad at being human because I'm not one.
Gem Echols is a nonbinary Seminole teen living in the tiny town of Gracie, Georgia. Known for being their peers' queer awakening, Gem leans hard on charm to disguise the anxious mess they are beneath. The only person privy to their authentic self is another trans kid, Enzo, who's a thousand long, painful miles away in Brooklyn.
But even Enzo doesn't know about Gem's dreams, haunting visions of magic and violence that have always felt too real. So how the hell does Willa Mae Hardy? The strange new girl in town acts like she and Gem are old companions, and seems to know things about them they've never told anyone else.
When Gem is attacked by a stranger claiming to be the Goddess of Death, Willa Mae saves their life and finally offers some answers. She and Gem are reincarnated gods who've known and loved each other across lifetimes. But Gem – or at least who Gem used to be - hasn't always been the most benevolent deity. They've made a lot of enemies in the pantheon—enemies who, like the Goddess of Death, will keep coming.
It's a good thing they've still got Enzo. But as worlds collide and the past catches up with the present, Gem will discover that everyone has something to hide.
Praise for Godly Heathens: A Novel (The Ouroboros #1)
"Electrifying...Edgmon thoughtfully explores issues of agency, identity, and mental illness via an inventive mythology; a high-stakes, action-packed plot; and a vibrantly drawn, intersectionally diverse cast embroiled in realistically thorny relationships." - Publishers Weekly, Starred Review
"A monstrously thrilling, deeply emotional, and mythologically rich fantasy about seizing your own power." - School Library Journal, Starred Review
"With a compelling plotline and cast of characters, Godly Heathens establishes an intriguing setup for the planned second book in the Ouroburos duology. Its depth in content and theme creates a profound story that will empower and inspire." - BookPage, Starred Review
"Rich with complex and morally gray characters—especially its lovably unreliable narrator—this duology starter will delight fans of horror and dark fantasy through its twisty conclusion...this is definitely the book for anyone who claims to support trans rights and trans wrongs." - Booklist
"Fast-paced and engaging, the novel addresses queer identity, mental health, and belonging to and disconnection from one's land and language, while weaving a vivid magic realm with its own logic. A thrilling fantasy series opener." - Kirkus

"Edgmon (The Witch King duology) crafts a brutal homage to queer perseverance in this bloody young adult fantasy." - Shelf Awareness
"Sharp as a blade, twice as vicious, and an outstretched hand all at once; a reminder to messy, angry kids that they can find their power no matter what they must do to survive. Absolutely unhinged and utterly unforgettable." - Andrew Joseph White, New York Times bestselling author of Hell Followed with Us
"This is the kind of book that changes young lives. The kind readers will force into their friends' hands and shout, 'Read this now!'. The kind where readers will fall in love with every character who is messy and sexy and terrible in their own way. The worldbuilding is fun and creative, the twists are satisfying, and it is super queer in the best way. There is plenty here to love. If only all the villain stories in YA could be this good!" - Rebecca Roanhorse, New York Times bestselling author of Black Sun
"Vile, nasty, ill-behaved queerness—and I LOVED it. Godly Heathens takes the evil stereotype of queers as monsters—particularly ones in trans bodies—and embraces monstrosity with power and agency. A country-fried horror extravaganza you cannot miss!" - Adam Sass, award-winning author of Surrender Your Sons and The 99 Boyfriends of Micah Summers
"Godly Heathens is as whip-smart as it is delightfully unhinged, oscillating between heart-pounding action, laugh-out-loud humor, and poignant discussions of identity. Paired with its baked-in layers of queer teen messiness, it's safe to say this series is off to an explosive start. Edgmon does not miss." - Kayla Cottingham, New York Times bestselling author of My Dearest Darkest