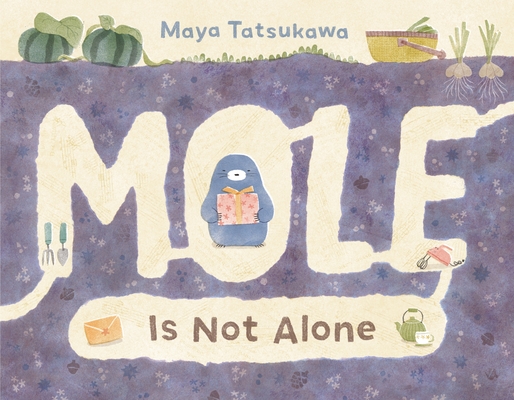 Mole Is Not Alone
Publication Date:
October 3rd, 2023
Publisher:
Henry Holt and Co. (BYR)
Usually Ships in 1 to 5 Days
An adorable story about an introvert's anxiety when faced with a party invitation. The art evokes Mole's twists and turns talking themself into and out of attending, and celebrates the ways we can find joy no matter which path we take.
November/December 2023 Kids' Indie Next List
Description
In this cozy picture book about friendship, Mole anxiously decides to journey through underground tunnels to attend a party.
Mole is invited to a party, which is very worrisome. What if the party is too rowdy for Mole? What if Mole doesn't know anyone there? What if Mole is just too shy to make friends? Mole worries through the tunnels, around Snake's burrow, under the forest, past Bear's den, and all the way to Rabbit's door. But despite all those worries, maybe Mole can find a quiet way to make friends . . .
With warm and sweet illustrations, every page of Mole Is Not Alone is an invitation to look and look again. Readers can follow Mole's tunnel as it connects from one page to the next, learning along the way that everyone can make friends, even if some parties are quieter than others.

An Indie Next List Pick
A Kirkus Review Best Book of 2023
A Book Page Best Book of 2023
Praise for Mole Is Not Alone
★ "Sweet and cozy—much like the cream puffs Mole makes—Mole Is Not Alone lends itself well to both storytime read-alouds and quiet snuggles before bed. Fans of Yeorim Yoon and Jian Kim's It's OK, Slow Lizard and Cori Doerrfeld's The Rabbit Listened will want to add this to their shelves." — BookPage, starred review
★ "Soft, muted artwork depicts an utterly cozy and enchanting world. . . . Mole's self-talk is endearing and all-too relatable. Ultimately, Tatsukawa brings this tale to satisfying conclusion that lets young introverts know they can have fun on their own terms."— Kirkus, starred review
★ "...a story about anticipatory worry that ends not with forced revelry, but with a "Maybe... next time?" and gentle camaraderie found." – Publisher's Weekly, starred review
"Tatsukawa's adorable illustrations . . . would be at home on any nursery blanket, making the story's handling of social anxiety feel comforting and reassuring." — Booklist
"Tatsukawa creates art that is as gentle as the story, with soft, muted tones in greens, browns, and blacks, clean stenciled lines, and stamp-like smudgy textures. The tunnels Mole traverses are cleverly set up to function like comic book panels, and all text is in speech bubbles, making this easy for youngsters to try to read on their own." — BCCB
"Tatsukawa's beautiful pastel illustration create a whimsical feel; kids will delight in the many details in the pictures. . . . This sensitive story will delight party lovers and those with social anxiety alike—a charming addition to the SEL shelves." —SLJ