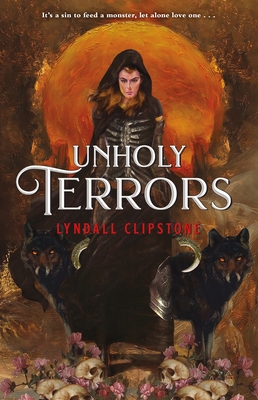 Unholy Terrors
Publication Date:
October 17th, 2023
Publisher:
Henry Holt and Co. (BYR)
Usually Ships in 1 to 5 Days
Description
Everline Blackthorn has devoted her life to the wardens—a sect of holy warriors who guard against monsters known as the vespertine.
When a series of strange omens occur, Everline disobeys orders to investigate, and uncovers a startling truth in the form of Ravel Severin: a rogue vespertine who reveals the monsters have secrets of their own.
Ravel promises the help she needs— for a price. Vespertine magic requires blood, and if Everline wants Ravel to guide across the dangerous moorland, she will have to allow him to feed from her.
It's a sin for a warden to feed a vespertine— let alone love one— and as Everline and Ravel travel further across the moorland, she realizes the question isn't whether she will survive the journey, but if she will return unchanged. Or if she wants to.
Critically acclaimed author of monstrous romances Lyndall Clipstone weaves a bloodstained tale of a girl torn between her vows and her heart, where falling in love may be the deepest sin of all…
Praise for Unholy Terrors
"Passionate and swoony...Gothic fantasy fans will appreciate the intricate worldbuilding and deliberate pacing that allows for rich descriptions of both arcane magic and the desolate wilds that separate the vespertines from the wardens." —BCCB
"The book's strength and charm lie in its complete commitment to its brooding atmosphere, with stormy nights, bloody rituals, and animal magnetism...A modern, moody, and monstrously gothic experience." –Kirkus
"A whirlwind journey, filled with heart-wrenching tension and sinister twists. This is the kind of dark romance you thirst for!" –Alexandra Christo, internationally bestselling author of To Kill A Kingdom
"Bloody and lovely at once, Unholy Terrors is a moody meditation on desire and duty, fate and free will, the bonds we are born to and the ones we choose for ourselves." – Erica Waters, Bram Stoker Award-winning author of The River Has Teeth

"A stunning fantasy romance with claws—literally—that begs to be devoured, but is certainly worth savoring." –M.K. Lobb, internationally bestselling author of Seven Faceless Saints
"Lyndall Clipstone has woven a dark dream that ensnares all five senses. Fanged yet delicate, with its windswept moors, blood moons, and aching romance, Unholy Terrors is utterly spellbinding." –Rachel Gillig, author of The Shepherd King duology
"As romantic as it is gruesome, this heart-stopping gothic fantasy explores what it truly means to be a monster." –Kelly Andrew, author of The Whispering Dark and Your Blood, My Bones
Praise for Forestfall

"In an eerily vivid world of dark magic and darker monsters, this lush fairy tale of a book is so full of yearning, my heart physically ached." —Marissa Meyer, #1 New York TImes-bestselling author of The Lunar Chronicles
"With shades of Orpheus and Eurydice and a fresh twist on the classic love triangle, Forestfall is a worthy conclusion to the duology." — Kay Frost, Brookline Booksmith
"An exquisitely crafted tale of love in all its brutality and how far we are willing to fight for it in defiance of death.. Lyndall Clipstone is a brilliant new voice in YA and certainly one to keep watching for." -Kylie Ann Freeman, bookseller at Indigo Books
Praise for Lakesedge
"Bloody, sumptuous, and as timeless as a fairy tale." —April Genevieve Tucholke, author of The Boneless Mercies
"A shadow-drenched fairytale that readers will happily devour." —Emily Lloyd-Jones, author of The Bone Houses