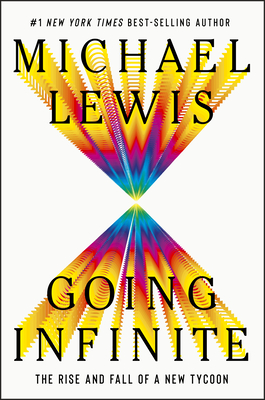 Going Infinite: The Rise and Fall of a New Tycoon
Publication Date:
October 3rd, 2023
Publisher:
W. W. Norton & Company
Usually Ships in 1 to 5 Days
Description
AN INSTANT #1 NEW YORK TIMES BESTSELLER
One of the New Yorker's Best Books of 2023 • One of Pure Wow's 42 Book to Gift This Year
"Going Infinite is in many ways Lewis at his best. He marshals a complex global story without losing sight of the delightful and revealing human details. He is a world-class noticer."—Jesse Armstrong, writer and creator of HBO's Succession, Times Literary Supplement
"A stupefyingly pleasurable book to read." —Gideon Lewis-Kraus, The New Yorker
"Going Infinite is an instant classic." — Helen Lewis, The Atlantic
"Going Infinite is wildly entertaining, surprising multiple times on pretty much every page, but it adds up to a sad story, even a tragedy, for its central character and for all the people who lost so much thanks to his actions." —John Lanchester, London Review of Books
"A wry, engaging writer and a gifted storyteller." —Julia M. Klein, Los Angeles Times
"It may be easy to take for granted how entertainingly [Michael Lewis] pulls it off again in Going Infinite." —Brett Martin, GQ
From the best-selling author of The Big Short and Flash Boys, the story of FTX's spectacular collapse and the enigmatic founder at its center.
When Michael Lewis first met him, Sam Bankman-Fried was the world's youngest billionaire and crypto's Gatsby. CEOs, celebrities, and leaders of small countries all vied for his time and cash after he catapulted, practically overnight, onto the Forbes billionaire list. Who was this rumpled guy in cargo shorts and limp white socks, whose eyes twitched across Zoom meetings as he played video games on the side?
In Going Infinite Lewis sets out to answer this question, taking readers into the mind of Bankman-Fried, whose rise and fall offers an education in high-frequency trading, cryptocurrencies, philanthropy, bankruptcy, and the justice system. Both psychological portrait and financial roller-coaster ride, Going Infinite is Michael Lewis at the top of his game, tracing the mind-bending trajectory of a character who never liked the rules and was allowed to live by his own—until it all came undone.
Praise for Going Infinite: The Rise and Fall of a New Tycoon
Lewis at his best. . . .You could easily make a savage satire on the crazy snakes and ladders of the crypto wild west described in Going Infinite. But if you have a feeling for the lives of these young people, it is a tragedy too. Whatever the precise proportions inside Sam Bankman-Fried of sincerity and moral seriousness versus malignity, deception and self-deception, I would defy anyone to read Lewis's book and conclude its subject to be a grifter.
— Jesse Armstrong, writer and creator of HBO's Succession, Times Literary Supplement
Going Infinite is a stupefyingly pleasurable book to read. It's perfectly paced, extremely funny, and fills in many gaps in a story that has been subjected to an unholy amount of reporting... What he began with Moneyball has come into full flower with Going Infinite. Lewis has surveyed a landscape taken by convention as settled and found it destabilized, at least here and there, by uneven and unreliable information. Perhaps Lewis's book should encourage an update, however minuscule, in our own priors.
— Gideon Lewis-Kraus - The New Yorker
Going Infinite is a portrait of grandiose ambitions, youthful arrogance, and the distorting power of money...[Lewis] remains the greatest living exponent of the plain style in reporting. His eye for detail is unsurpassed... And as a chronicle of collective delusion - a modern version of the Dutch tulip mania -Going Infinite is an instant classic... Michael Lewis deserves huge credit for capturing [SBF] in all his infinite weirdness... Mark Zuckerberg, another boy genius in ratty shoes, once described Twitter as a clown car that fell into a gold mine. Sam Bankman-Fried was a Seth Rogen character who fell into a tulip field circa 1634. Another one will be along in a minute. We never learn.
— Helen Lewis - The Atlantic
Leave it to [Lewis] to have unfettered access to one of the best financial stories to come around in years…. There are, of course, the priceless anecdotes from the book… including S.B.F.'s inane conversation with Anna Wintour about whether he would attend and potentially sponsor the annual Met Gala—"Yup!"—and the revelations about his relationship with Ellison, the consequences of which are now playing out in court….Going Infinite, is a delightful read, highly entertaining, often insightful and amusing. It's a character study of one of the most notorious financial figures of our time…. [Lewis] does not attempt in any way to try to figure out how S.B.F. pulled off what he is accused of doing, other than by revealing that he is one strange dude, lacking empathy, and capable, apparently, of fleecing billions from his customers.
— Willam Cohan - Puck
Lewis' storytelling is as good as ever… In the past, Mr Lewis has focused on little-known people doing extraordinary things. This time his subject is notorious… Mr Bankman-Fried's hyper-rationality sets him apart from everyone. He views people not as good or bad, but as "probability distributions" around a mean… By tolerating the idea that hyper-rationalists cannot make sense of the rules of the game the way most people do, Mr Lewis implicitly asks readers to reconsider whatever they thought they knew about Mr Bankman-Fried. In the court of public opinion, he is already convicted. That's reason enough to give this book a read.
— Economist
Michael Lewis has an uncanny instinct for a big story, and is now right in the thick of the action again... Reading Lewis can feel like being a passenger in an expertly piloted bobsleigh. You're moving so fast down the mountain, but you know you're going to be delivered safe and sound – hot chocolate waiting at the bottom. There is no need to stress, only to thrill to the scenery as it hurtles past.
— New Statesman
In November 2022, FTX collapsed in a matter of days after it suffered billions of dollars in customer withdrawals, sending shockwaves through the crypto world. To make sense of all this, with perfect timing, comes Michael Lewis…Going Infinite is his superbly detailed picture of the man behind it...So where might the money have gone? We still don't entirely know, though Lewis offers some preliminary balance sheet calculations ? which remain more detailed than anything FTX ever published.
— Evening Strandard
Michael Lewis is the world's finest financial storyteller… Going Infinite is at its best in describing Bankman-Fried's rise… Lewis is equally sharp on how the effective altruism movement shifted its priorities, from donating to prevent disease and mortality in the global south to worrying about (putative) trillions of human lives across the galaxy in the distant future.
— Steven Poole - Daily Telegraph
Going Infinite is insanely readable and I devoured it, marvelling at Lewis's ability to pace, structure and humanise a story about something as dense and unfriendly as crypto… As with previous outings such as Moneyball (nerdy baseball stats), The Big Short (credit default swaps), and Flash Boys (high-frequency trading) Going Infinite shows off Lewis's peculiar genius for making arcane information as transporting as fantasy fiction. ? Guardian
— Guardian
Going Infinite is wildly entertaining, surprising multiple times on pretty much every page, but it adds up to a sad story, even a tragedy, for its central character and for all the people who lost so much thanks to his actions… Lewis tries to answer the first question he was asked about Bankman-Fried: who was this guy? The question of his guilt or innocence Lewis leaves to the criminal justice system. I think that's good practice, given that the trial is happening right now. For what it's worth, I see no contradiction between the person described in Going Infinite and the things SBF is accused of having done. In fact I think the book makes it easier to understand how and why he did what he allegedly did.
— John Lanchester - London Review of Books