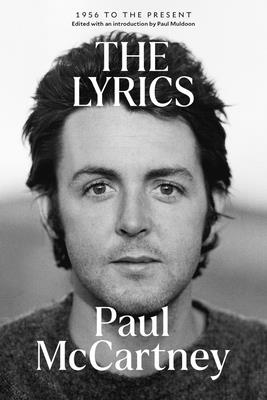 The Lyrics: 1956 to the Present
Publication Date:
November 7th, 2023
Usually Ships in 1 to 5 Days
Description
#1 NEW YORK TIMES BESTSELLER
A Washington Post Notable Book
Excerpted in The New Yorker
A work of unparalleled candor and splendorous beauty, The Lyrics celebrates the creative life and the musical genius of Paul McCartney through his most meaningful songs.
Finally in paperback and featuring seven new song commentaries, the #1 New York Times bestseller celebrates the creative life and unparalleled musical genius of Paul McCartney.
Spanning sixty-four years—from his early days in Liverpool, through the historic decade of The Beatles, to Wings and his solo career—Paul McCartney's The Lyrics revolutionized the way artists write about music. An unprecedented "triumph" (Times UK), this handsomely designed volume pairs the definitive texts of over 160 songs with first-person commentaries on McCartney's life, revealing the diverse circumstances in which songs were written; how they ultimately came to be; and the remarkable, yet often delightfully ordinary, people and places that inspired them. The Lyrics also includes:
· A personal foreword by McCartney
· An unprecedented range of songs, from beloved standards like "Band on the Run" to new additions "Day Tripper" and "Magical Mystery Tour"
· Over 160 images from McCartney's own archives
Edited and introduced by Pulitzer Prize-winning poet Paul Muldoon, The Lyrics is the definitive literary and visual record of one of the greatest songwriters of all time.
Praise for The Lyrics: 1956 to the Present
To read over the words to these 154 songs is to be impressed not merely with McCartney's productivity but with the fertility of his imagination and the potency of his offhand, unfussy style.... The Lyrics makes clear that McCartney has written on a high level long past his Beatles years, and even the weakest lyrics in the books have a character all their own: a feeling of giddy playfulness and unguarded experimentation. They're a joy to read because they exude the joy their maker took in their making.... Over and over, McCartney shows how deeply he is steeped in literary history and how much his output as a songwriter has in common with the works of the likes of Dickens and Shakespeare.
— David Hajdu - New York Times Book Review
The Lyrics is a triumph. It is hugely readable, devoid of rock cliché, and full of fresh stories and opinions that even devoted fans won't have encountered before. The pictures of McCartney and of handwritten lyrics, many of them never previously published, are worth the entry ticket on their own and the quality of the boxed product makes it a tactile pleasure and fun to possess.... The Lyrics is McCartney at his best.
— David Finklestein - The Times (UK)
Reading The Lyrics is like standing in a master chef's kitchen as he prepares a dish, adding a dash of this and a spoonful of that and talking to us so winningly.... The Lyrics is able to cram in much more — show posters, set lists, handwritten notes, group photos both staged and casual.... There's nothing like listening to Macca (as McCartney was known in his Liverpool days) talk about the rise of a band composed largely of working-class teens who changed the world forever.... Almost 60 years later, it's still an amazing story.... Muldoon interviewed him for hours and coaxed out these charming commentaries.
— David Kirby - Washington Post
Careening from decade to decade, and invoking John Lennon on the regular, it is likely the closest thing to a memoir McCartney will ever publish, with lyric sheets and a hefty number of unseen personal photos of his family and The Beatles.
— Kim Willis - USA Today
Indeed, The Lyrics easily represents the finest collection of illustrations associated with McCartney's life and work. And it's beautifully rendered, to boot. Drop-dead gorgeous as books go, The Lyrics rivals the finest art imprints.
— Kenneth Womack - Salon
With a gravity, reverence and sense of occasion that hasn't been seen since the Levites rolled out the Ark of the Covenant, the complete lyrics of Paul McCartney are published at last.
— John Walsh - Sunday Times
An unparalleled look at [McCartney's] creativity process... The breadth of his influences is astonishing.
— Jordan Runtagh - People