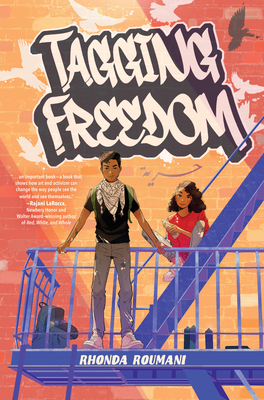 Tagging Freedom
Publication Date:
November 7th, 2023
Publisher:
Union Square Kids
Usually Ships in 1 to 5 Days
Where Kareem is toying with jail and near-death, Sam is just trying to stay out of her bully's way. But art brings everyone together in a way that made me breathe a sigh of relief. A fantastic road map for useful activism, and great storytelling!
November/December 2023 Kids' Indie Next List
Description
Out of the revolutions across the Arab world comes this inspirational story of hope, freedom, and belonging, perfect for fans of Other Words for Home and A Good Kind of Trouble.
Kareem Haddad of Damascus, Syria, never dreamed of becoming a graffiti artist. But when a group of boys from another town tag subversive slogans outside their school, and another boy is killed while in custody, Kareem and his friends are inspired to start secretly tag messages of freedom around their city.
Meanwhile, in the United States, his cousin, Samira, has been trying to make her own mark. Anxious to fit in at school, she joins the Spirit Squad where her natural artistic ability attracts the attention of the popular leader. Then Kareem is sent to live with Sam's family, and their worlds collide. As graffitied messages appear around town and all eyes turn to Kareem, Sam must make a choice: does she shy away to protect her new social status, or does she stand with her cousin?
Informed by her time as a journalist, author Rhonda Roumani's Tagging Freedom is a thoughtful look at the intersection between art and activism, infused with rich details and a realistic portrayal of how war affects and inspires children, similar to middle grade books for middle schoolers by Aisha Saeed, The Night Diary by Veera Hiranandi, or Refugee by Alan Gratz.