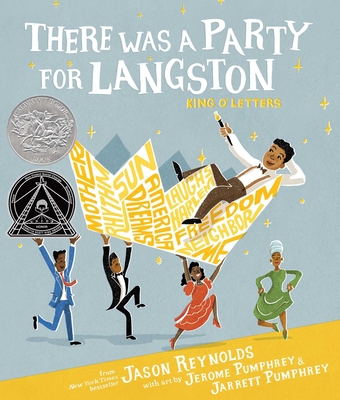 There Was a Party for Langston
Publication Date:
October 3rd, 2023
Publisher:
Atheneum/Caitlyn Dlouhy Books
Usually Ships in 1 to 5 Days
All hail Langston Hughes! Jason Reynolds and the Pumphrey brothers celebrate him and his 1991 NY Public Library party in this wondrous picture book. The words dance, and each illustration is a treat! This book begs to be enjoyed — join the party!
November/December 2023 Kids' Indie Next List
Description
New York Times bestselling and award-winning author Jason Reynolds's debut picture book is a snappy, joyous ode to Word King, literary genius, and glass-ceiling smasher Langston Hughes and the luminaries he inspired.
Back in the day, there was a heckuva party, a jam, for a word-making man. The King of Letters. Langston Hughes. His ABCs became drums, bumping jumping thumping like a heart the size of the whole country. They sent some people yelling and others, his word-children, to write their own glory.
Maya Angelou, Amiri Baraka, and more came be-bopping to recite poems at their hero's feet at that heckuva party at the Schomberg Library, dancing boom da boom, stepping and stomping, all in praise and love for Langston, world-mending word man. Oh, yeah, there was hoopla in Harlem, for its Renaissance man. A party for Langston.
Praise for There Was a Party for Langston
The creators' high-stepping testament to the enduring cultural influence of Harlem Renaissance poet Langston Hughes (1901–1967) begins with the promise of a party: "a jam in Harlem to celebrate the word-making man." Rhythmic lines from Newbery Honoree Reynolds, making his picture book debut, aptly describe Hughes as "the best word maker around./ Could make the word MOTHER feel/ like real warm arms wrapped around you." In illustrations rendered with handmade stamps, Ezra Jack Keats Award Honorees the Pumphrey brothers apply stylized typography throughout, as on a page in which mother makes up the figure of a parent embracing a child. Melding celebratory text and kinetic, graphical art, the creators underscore the power of the subject's poetry to move and to inspire. 
— Publishers Weekly, *STARRED REVIEW*
*Inspired by a photo of Maya Angelou and Amiri Baraka boogeying down at a 1991 gathering at the New York Public Library's Schomburg Center, this high-stepping shoutout to the honoree of that historic "hoopla in Harlem" pays tribute to the "king of letters," celebrating the man "who wrote Maya and Amiri into the world" with his "wake-up stories / and rise-and-shine rhymes," who answered would-be "word breakers" and book burners with courage and laughter. In illustrations as rhythmic and exuberant as Reynolds' narrative, Langston and the other two luminaries may occupy center stage (their bodies ingeniously constructed from words and the brushed letters of their names), but the entire alphabetically arranged lineup of guests looking on from the bookshelves are familiar names—from Ashley Bryan to Zora Neale Hurston, Toni Morrison to Octavia Butler, Countee Cullen to Nikki Giovanni to Gwendolyn Brooks. Evocative and celebratory words float around the dancers like strains of music, all the way to a culminating whirl of letters, laughter, and joy. Who knew these esteemed literary lions could cut the rug like that? 
— Booklist, *STARRED REVIEW*
Inspired by a joyous photo of Angelou and Baraka snapped in 1991 at the opening of the Langston Hughes Auditorium at the New York Public Library's Schomburg Center for Research in Black Culture, Reynolds sets a syncopated pace with his debut picture book, delivering not only a celebratory dance of a biography, but a primer in Hughes' own jazz poetry. Not missing a beat and laying down one all their own, the Pumphrey brothers' illustrations incorporate verses from Hughes' poems and other words he set into motion to create a thrumming visual landscape where meaning takes literal flight. This book demonstrates that Hughes' work is the epitome of what words can be. A bar set stratospherically high and cleared with room to spare.
— Kirkus Reviews, *STARRED REVIEW*
Reynolds and the Pumphreys sharpen all their tools for this one, throwing word art like clouds into the sky and regaling readers with scene after scene of the finest guests—Amiri Baraka, Maya Angelou, and so many more—who have come to Harlem's Schomberg Center for Research in Black Culture for one reason: to celebrate the opening of the Langston Hughes Auditorium in February 1991. This book is an absolute textual and pictorial glory of people, places, word-making, song-singing, storytelling, history-making moments, and images that are unforgettable. A beguiling, bedazzling collaboration that will send children to the shelves to learn more about all the names within, especially Hughes.
— School Library Journal, *STARRED REVIEW*