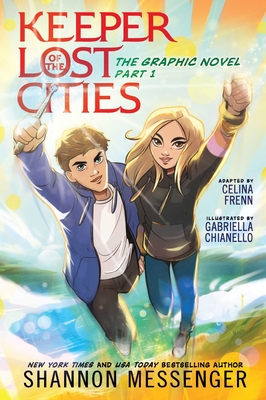 Keeper of the Lost Cities The Graphic Novel Part 1: Volume 1
Publication Date:
November 7th, 2023
Usually Ships in 1 to 5 Days
Description
The first book in the New York Times and USA TODAY bestselling Keeper of the Lost Cities series is being reimagined as a graphic novel with the first half of the epic novel adapted to this new format with beautiful artwork!
Twelve-year-old Sophie Foster has never quite fit into her life. She's skipped multiple grades and doesn't really connect with the older kids at school, but she's not comfortable with her family, either. The reason? Sophie's a Telepath, someone who can read minds. No one knows her secret—at least, that's what she thinks…
But the day Sophie meets Fitz, a mysterious (and adorable) boy, she learns she's not alone. He's a Telepath too, and it turns out the reason she has never felt at home is that, well…she isn't. Fitz opens Sophie's eyes to a shocking truth, and she is forced to leave behind her family for a new life in a place that is vastly different from what she has ever known.
This stunning graphic novel retelling of the first half of the thrilling first novel comes to life with all the adventure and epic worldbuilding the Keeper of the Lost Cities series is known for.