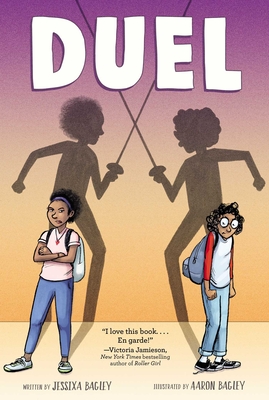 Duel
Publication Date:
November 7th, 2023
Publisher:
Simon & Schuster Books for Young Readers
Usually Ships in 1 to 5 Days
Duelhas it all — a compelling story, characters you care about, and fascinating facts about fencing. The sibling relationship is honest and the journey through grief is real. You'll give this one to young readers the moment you finish it.
November/December 2023 Kids' Indie Next List
Description
A rivalry between sisters culminates in a fencing duel in this funny and emotional debut graphic novel sure to appeal to readers of Raina Telgemeier and Shannon Hale.
Sixth grader Lucy loves fantasy novels and is brand-new to middle school. GiGi is the undisputed queen bee of eighth grade (as well as everything else she does). They've only got one thing in common: fencing. Oh, and they're sisters. They never got along super well, but ever since their dad died, it seems like they're always at each other's throats.
When GiGi humiliates Lucy in the cafeteria on the first day of school, Lucy snaps and challenges GiGi to a duel with high sisterly stakes. If GiGi wins, Lucy promises to stay out of GiGi's way; if Lucy wins, GiGi will stop teasing Lucy for good. But after their scene in the cafeteria, both girls are on thin ice with the principal and their mom. Lucy stopped practicing fencing after their fencer dad died and will have to get back to fighting form in secret or she'll be in big trouble. And GiGi must behave perfectly or risk getting kicked off the fencing team.
As the clock ticks down to the girls' fencing bout, the anticipation grows. Their school is divided into GiGi and Lucy factions, complete with t-shirts declaring kids' allegiances. Both sisters are determined to triumph. But will winning the duel mean fracturing their family even further?
Praise for Duel
*"A down-to-earth and emotional family story."
— Horn Book, STARRED REVIEW
Married collaborators the Bagleys seamlessly blend sports drama with middle school angst in this cleverly constructed graphic novel; chapters begin by introducing fencing concepts that mirror the action, and past events are conveyed in sequences rendered in dreamy blue linework that juxtaposes present-day full-color spreads. Incisive discussions about grief and the importance of support from family and friends—deepened by the contrast between Lucy's and GiGi's relationships with their best friends—deepens this already rich story of sisterly rivalry that's also an earnest love letter to fencing.
— Publishers Weekly *STARRED REVIEW*
"Intense and complex, exploring siblings' grief, love, and forgiveness."
— Kirkus
"I loved this book and found myself rooting for both sisters. I adored their complex, funny, and realistic relationship. Kids are going to love this story of sibling rivalry set in the fascinating world of competitive fencing. En garde!"
— Victoria Jameson, New York Times bestselling author of Roller Girl
*"An excellent read for fans of Raina Telgemeier or Dan Santat's A First Time for Everything."
— Shelf Awareness 
*"A down-to-earth and emotional family story."
— Horn Book, STARRED REVIEW
Married collaborators the Bagleys seamlessly blend sports drama with middle school angst in this cleverly constructed graphic novel; chapters begin by introducing fencing concepts that mirror the action, and past events are conveyed in sequences rendered in dreamy blue linework that juxtaposes present-day full-color spreads. Incisive discussions about grief and the importance of support from family and friends—deepened by the contrast between Lucy's and GiGi's relationships with their best friends—deepens this already rich story of sisterly rivalry that's also an earnest love letter to fencing.
— Publishers Weekly *STARRED REVIEW*