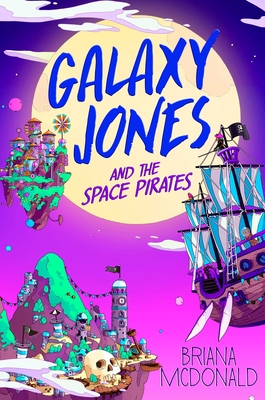 Galaxy Jones and the Space Pirates
Publication Date:
October 24th, 2023
Publisher:
Simon & Schuster Books for Young Readers
Usually Ships in 1 to 5 Days
Pirates: in space! This action-packed adventure is about finding yourself and being true to you, despite how others perceive you. When Galaxy Jones' interstellar nemesis becomes her partner in crime, will he also be a friend? A fun read!
November/December 2023 Kids' Indie Next List
Description
From the author of Pepper's Rules for Secret Sleuthing and The Secrets of Stone Creek comes a rip-roaring middle grade space adventure about a girl who is determined to save her family and friends from ruthless pirates—even if she has to venture across the universe to do it.
Galaxy Jones lives on the very, very edge of a star system in an inn run by her dads. She loves her home and her little family, but ever since the train station that serviced their part of the universe went defunct, tourists have stopped coming, and Lexi's on the verge of losing it all. When the royal family stops at their inn on the way to a neighboring star system, Lexi's dads hope for some good business, but Lexi knows from past experience with spoiled Prince Weston—and his annoying dog, Comet—to expect nothing but trouble.
Turns out, that "trouble" is a whole lot bigger than she anticipated. Weston has stolen something. Even worse, he's stolen it from notorious pirates—former followers of Lexi's idol, the famous pirate Astro Bonny—who have tracked him straight to her house. Problem is, Weston has lost the trinket somewhere in deep space. And now the pirates are holding all the adults hostage with the threat of destroying the inn if they can't find what they've come for.
Lucky for Weston, Lexi has a plan. In exchange for his help saving the family business, she will use all her skills and embrace the adventurous spirit of the great Astro Bonny to help him find whatever it is the pirates are after. With some pluck, and a whole lot of luck, she might just pull it off—and make an unexpected friend along the way.
Praise for Galaxy Jones and the Space Pirates
"Buckle up for an interstellar adventure filled with captivating characters and non-stop action. McDonald has crafted a joyful tale of friendship, bravery, and belonging that should not be missed."
 
— Adrianna Cuevas, author of the Pura Belpré Honor book The Total Eclipse of Nestor Lopez and The Ghosts of Rancho Espanto
"A wildly original escapade featuring sympathetic protagonists and lively action sequences."
— Publishers Weekly