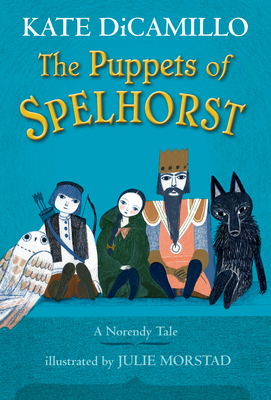 The Puppets of Spelhorst (The Norendy Tales)
Publication Date:
October 10th, 2023
Usually Ships in 1 to 5 Days
This breathtaking folk tale of lost love and five extraordinarily endearing puppets brought me to tears when I read it to my daughter. Filled with incredible Gorey-esque drawings, this story deserves to be cherished by readers of any age.
November/December 2023 Kids' Indie Next List
Description
A New York Times bestseller!

"Kate DiCamillo's dazzling first title in the Norendy Tales trilogy is brimming with wit, whimsy, and heart as it follows five puppets fulfilling their thrilling shared destiny." – Shelf Awareness
Shut up in a trunk by a taciturn old sea captain with a secret, five friends—a king, a wolf, a girl, a boy, and an owl—bicker, boast, and comfort one another in the dark. Individually, they dream of song and light, freedom and flight, purpose and glory, but they all agree they are part of a larger story, bound each to each by chance, bonded by the heart's mysteries. When at last their shared fate arrives, landing them on a mantel in a blue room in the home of two little girls, the truth is more astonishing than any of them could have imagined. A beloved author of modern classics draws on her most moving themes with humor, heart, and wisdom in the first of the Norendy Tales, a projected trio of novellas linked by place and mood, each illustrated in black and white by a different virtuoso illustrator. A magical and beautifully packaged gift volume designed to be read aloud and shared, The Puppets of Spelhorst is a tale that soothes and strengthens us on our journey, leading us through whatever dark forest we find ourselves in.
Praise for The Puppets of Spelhorst (The Norendy Tales)
Five puppets pass through the lives of one sad adult after another, hoping to find their story. Their journey is illustrated in entrancing, haunted black-and-white art by Julie Morstad. Finally, the puppets are given to a child who writes a play for them to star in — a play that ties the tales of all the forlorn adults back together in a tour de force that a lesser author would be afraid even to attempt. . . Both 'Despereaux' and 'Spelhorst' demand a lot of their readers. . . Children need stories that help them explore . . . darkness."
—The New York Times Book Review
A quintet of puppets—"the king and the wolf and the girl/ and the boy and the owl"—ponder their dreams and yearnings in this quietly entrancing novella told in three acts. . . . Newbery Medalist DiCamillo applies spare prose and witty conversation in fleshing out the puppets' desires as well as exploring the power of stories to promote community and offer a path to fulfillment.
—Publishers Weekly (starred review)
Like many other stories featuring toys, from Hitty to The Mouse and His Child, there is a strain of melancholy here, with characters who long for autonomy but whose existence is dependent on the imaginations of others. This mood is perfectly captured in digitally rendered pencil drawings that add specificity (a Regency-esque setting in fictional Norendy), dignity, drama, and sheer beauty.
—The Horn Book (starred review
What treasure box does DiCamillo have in store for young readers this time? One that contains five beautifully crafted puppets. . . DiCamillo's storytelling is as effortless as always, and Morstad's frequent pencil illustrations elevate it further. This first of the Norendy Tales chapter-book series is guaranteed to enchant young readers. This collaboration by two masters of their craft—a Newbery Medalist and a Governor General's Literary Award finalist—will prove irresistible.
—Booklist (starred review)
DiCamillo has a knack for capturing the real sentiments of children (and puppets), foibles and all, in fantastical settings and circumstances. . . . As in all DiCamillo's stories, the pages are peppered with smart, wry humor, balanced with moving moments of flawed humanity. An absolute gem. . . . Kate DiCamillo's dazzling first title in the Norendy Tales trilogy is brimming with wit, whimsy, and heart as it follows five puppets fulfilling their thrilling shared destiny.
—Shelf Awareness
A new book from Kate DiCamillo always gives reason to celebrate, and her latest fairy tale is no exception. . . . The Puppets of Spelhorst's short chapters of simple yet often profound prose beg to be read aloud. This exciting, fast-paced story contains several pointed touches of female empowerment as well as a glorious surprise ending that is revealed in a full-page spread. Julie Morstad's illustrations do an excellent job of setting an old-fashioned, fairy-tale mood while achieving a delicate feat: making these puppets look both inanimate yet lively. . . With all the makings of a classic fairy tale, The Puppets of Spelhorst skillfully addresses many of DiCamillo's favorite themes: the power of love and togetherness; the many unexpected wonders of the world; the importance of following one's dreams; and the majesty of stories and storytelling.
—BookPage (starred review)
The first of an anticipated trilogy of novellas, this is a quiet story of belonging, family, and destiny. The illustrations do remarkable work in reflecting the blank eyes and fixed features of the puppets while also evoking a strong emotional response to them through subtle choices in their posture, shading, and relative size on the page.
—The Bulletin of the Center for Children's Books
Puppets yearn for greater things. . . . A quiet, comforting fable of identity and belonging.
—Kirkus Reviews
Ms. DiCamillo is always a careful writer, deploying words with dignity, economy and affection. . . readers ages 7-10 are likely to want to know what happens next.
—The Wall Street Journal
Lyrically written and enchantingly illustrated, it's an instant classic created by two masters in their craft.
—The San Francisco Chronicle
An unforgettable fairy tale about five puppets seeking to pursue their dreams. With enchanting illustrations from Julie Morstad, The Puppets of Spelhorst is a magical story perfect for family read-alouds.
—The Barnes & Noble Reads Blog
Wow. DiCamillo's The Puppets of Spelhorst is a master class in storytelling. As soon as I finished the book, I turned back to page one and started reading it again. Five stars.
—Colby Sharp, educator and coauthor of The Commonsense Guide to Your Classroom Library
There's so much more to talk about with this book. The role of the girls who play with the puppets and how their very different impressions of them cause great changes. The role of the maid Jane Twiddum and what she wants. Heck, there's a whole undercurrent of feminism and the roles puppets and living women play within society, but I suppose I'll save that for someone else's thesis. The important thing to understand is that this is a story where it doesn't matter how physically passive you are. Your interior life, your hopes and dreams and goals, that's the thing that matters. That's what's going to make you into an active protagonist in the end, regardless of whether or not you have the ability to move. The Puppets of Spelhorst taught me that. Now imagine what it could teach your own children.
—Betsy Bird, A Fuse #8 Production, School Library Journal