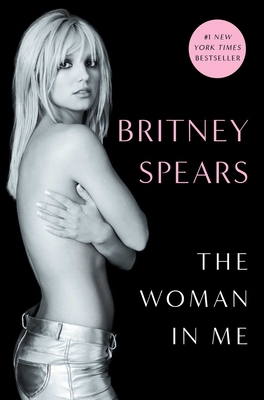 The Woman in Me
Publication Date:
October 24th, 2023
Usually Ships in 1 to 5 Days
Description
#1 New York Times Bestseller
Winner of the 2023 Goodreads Choice Award for Best Memoir & Autobiography
Named a Best Book of 2023 by ELLE, The Washington Post, Vulture, NPR, The New Statesmen (UK), The New Yorker, and more!
"In Britney Spears's memoir, she's stronger than ever." —The New York Times
The Woman in Me is a brave and astonishingly moving story about freedom, fame, motherhood, survival, faith, and hope.
In June 2021, the whole world was listening as Britney Spears spoke in open court. The impact of sharing her voice—her truth—was undeniable, and it changed the course of her life and the lives of countless others. The Woman in Me reveals for the first time her incredible journey—and the strength at the core of one of the greatest performers in pop music history.
Written with remarkable candor and humor, Spears's groundbreaking book illuminates the enduring power of music and love—and the importance of a woman telling her own story, on her own terms, at last.
Praise for The Woman in Me
"Emerging radiant through the chaos . . . in Britney Spears's memoir, she's stronger than ever. . . .  [It's] presented so cleanly and candidly that The Woman in Me seems designed to be read in one sitting. It's nearly impossible to come out of it without empathy for and real outrage on behalf of Spears, whose admitted bitterness over the dire circumstances of the last decade-plus of her life  . . . is tempered by an enduring, insistent optimism." —The New York Times
"Moving." —Time 
"Powerful in its vividness  . . . much has been made of the 'bombshell' revelations from this memoir . . . but vastly more interesting are the quiet revelations about herself. . . . Spears has always been funny and so unequivocally herself, even when recounting her mistreatment by most of the men in her life. . . . You can sense Spears gaining her power back, inch by inch. The Woman in Me is a worthy act of self-resurrection."  —Los Angeles Times
"Breathtaking." —The Independent (UK)
"A miracle." —The Guardian (UK)
"Poignant." —Vogue
"Britney Spears holds nothing back in her short, bittersweet, and extremely powerful memoir. . . . A testament to Spears's essential fortitude of spirit—something that burns off these pages." —The Telegraph (UK)