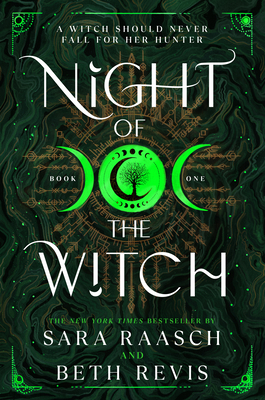 Night of the Witch (Witch and Hunter)
Publication Date:
October 3rd, 2023
Publisher:
Sourcebooks Fire
Usually Ships in 1 to 5 Days
Based on the German witch trials,Night of the Witchis an enthralling new fantasy told in a dual point-of-view, with a will-they-won't-they romance, sharply-paced plot, complex characters, and magic. Prepare to be absolutely enchanted.
November/December 2023 Kids' Indie Next List
Description
An instant New York Times bestseller!
New York Times bestselling authors Sara Raasch and Beth Revis weave a tale of romance, vengeance, and magic in this start to the Witch and Hunter duology, an epic enemies to lovers fantasy romance.
Fritzi is a witch. The lone survivor of a brutal attack on her coven, she's determined to find her only remaining family member and bring the hexenjägers—zealot witch hunters—to justice for the lives they ended. To do this, she will need to take down their leader, the merciless and enigmatic Kommandant Dieter Kirch.
Otto is a hexenjäger—but that's just his cover. Years ago, the hexenjägers burned his innocent mother alive, and he has been plotting his revenge against the people who tore apart his family ever since. And now the time has come for them to pay for what they've done.
When Fritzi and Otto are unexpectedly thrown together, neither is sure they can trust the other. The reluctant truce fueled by their common enemy takes them from the city at the heart of the hexenjägers' power to the wild and mysterious Black Forest. As old truths come to light and new dangers are revealed, Fritzi and Otto uncover a horrifying magical plot at the center of the hexenjäger attacks that leads back to Kommandant Kirch . . . but their own growing feelings for each other may be the most powerful magic of all.
Praise for Night of the Witch:
"Set against the backdrop of the Medieval German Witch Trials, Raasch and Revis weave a fantasy and heart-pounding tale full of history, love, witchcraft, and war that will have you gripping your book, waiting for the next shocking twist." — #1 New York Times bestselling author Jennifer L. Armentrout 
"Night of the Witch is an irresistibly compelling page-turner, distinguished by vivid descriptions, a fascinating magic system, and crackling chemistry between the two leads. Best of all? When I finished reading, I wanted more. Bring on the next book!" — Claire Legrand, New York Times bestselling author of Furyborn
"A breathtaking adventure from beginning to end. Full of wild magic, stunning twists, and a romance that burns on the page,Night of the Witch is an addictive read that will leave readers desperate for more." — Rachel Griffin, New York Times bestselling author of The Nature of Witches and Bring Me Your Midnight
"Raasch and Revis have brewed a brilliant novel that combines history and fantasy in the best of ways. Be prepared to stay up late reading this one. If it isn't the action keeping you on the edge of your seat, then it'll be the sizzling romance." — Tricia Levenseller, New York Times bestselling author of Blade of Secrets
Praise for Night of the Witch (Witch and Hunter)
"Set against the backdrop of the Medieval German Witch Trials, Raasch and Revis weave a fantasy and heart-pounding tale full of history, love, witchcraft, and war that will have you gripping your book, waiting for the next shocking twist." — #1 New York Times bestselling author Jennifer L. Armentrout 
"Night of the Witch is an irresistibly compelling page-turner, distinguished by vivid descriptions, a fascinating magic system, and crackling chemistry between the two leads. Best of all? When I finished reading, I wanted more. Bring on the next book!" — Claire Legrand, New York Times bestselling author of Furyborn
"A breathtaking adventure from beginning to end. Full of wild magic, stunning twists, and a romance that burns on the page, Night of the Witch is an addictive read that will leave readers desperate for more." — Rachel Griffin, New York Times bestselling author of The Nature of Witches and Bring Me Your Midnight
"Raasch and Revis have brewed a brilliant novel that combines history and fantasy in the best of ways. Be prepared to stay up late reading this one. If it isn't the action keeping you on the edge of your seat, then it'll be the sizzling romance." — Tricia Levenseller, New York Times bestselling author of Blade of Secrets
"Night of the Witch is the most original fantasy I've read in a long while, full of stunning worldbuilding, fierce heroes, and bewitching romance. I am not exaggerating when I say it's a knockout, unputdownable story by two of the best YA authors today. " — Evelyn Skye, New York Times Bestselling author of Crown's Game and Damsel
"The authors sustain tension via Fritzi and Otto's alternating perspectives, and harrowing descriptions of body horror and trauma alongside quiet, tender moments of connection round out this beguiling series opener" - Publishers Weekly, STARRED review