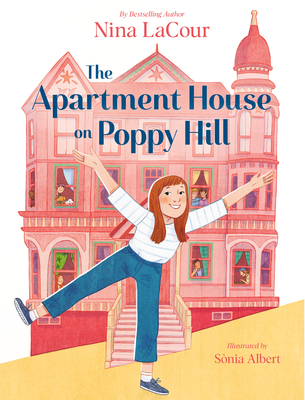 The Apartment House on Poppy Hill: Book 1
Publication Date:
November 7th, 2023
Publisher:
Chronicle Books
Usually Ships in 1 to 5 Days
The Apartment House on Poppy Hillis such a joyful mystery! Fans of Ivy + Bean and Secret Spy Society series will surely enjoy it. I, for one, would love to live at 1106 Wildflower Place.
November/December 2023 Kids' Indie Next List
Description
A charming new chapter book by bestselling author Nina LaCour.  
Welcome to 1106 Wildflower Place: It is no ordinary apartment house, but you, reader, are no ordinary visitor. So, please, come in!
Two new tenants have just arrived, and nine-year-old Ella is determined to help them settle in. Who better to teach them about the glitchy lights and the nighttime noises? After all, Ella knows all the neighbors. Well, almost all. No one has met the mysterious Robinsons who live on the top floor. Will a special neighborly celebration change all that? This bighearted chapter book by bestselling author Nina LaCour, highlighted by lively illustrations throughout, celebrates community, friendship, family, and home. It is a place of walking dogs that aren't yours, keeping surprises secret, and making everyone feel welcome.
Here, the eccentric joy of Armistead Maupin's Tales of The City merges seamlessly with the antic fun of Ivy + Bean, the family tenderness of The Penderwicks, and the madcap adventure of Eloise in an irresistible story that will leave you eager for the next one!
BESTSELLING, AWARD-WINNING AUTHOR: Nina LaCour is a highly acclaimed author of both YA and adult novels. This is her first novel for younger readers and a terrific introduction of a talented writer to the next generation.
HILARIOUSLY UNIVERSAL: Ella is a strong protagonist that readers of all ages and genders will love. She is bighearted, curious, and just a tad mischievous.
DIVERSE CAST OF CHARACTERS: Featuring many different family structures, this story is wonderfully diverse and inclusive. Any reader can imagine themselves living at 1106 Wildflower Place.
DRAWN FROM AUTHOR'S PERSONAL EXPERIENCE: The charming characters and their stories were conjured by LaCour and her young daughter during the long walks they took through San Francisco during the early days of Covid-19 and inspired by the people they encountered along the way.
Perfect for:
Parents, teachers, and librarians
Gift-givers looking for entertaining chapter books for kids who enjoy stories full of humor and heart
Readers who love such bestselling book series as Ivy + Bean, Clementine, Judy Moody, and Junie B. Jones
​
Praise for The Apartment House on Poppy Hill: Book 1
"LaCour's new transitional chapter-book series is cozy and classic-feeling…Ella's curiosity and gregariousness are infectious, and she'll easily sweep readers into her charming world." — Booklist
"Through Ella's infectious narration and the stories' loosely defined plots, LaCour sketches distinctive, endearing characters and offers a gentle celebration of intergenerational friendship and community." — Publishers Weekly