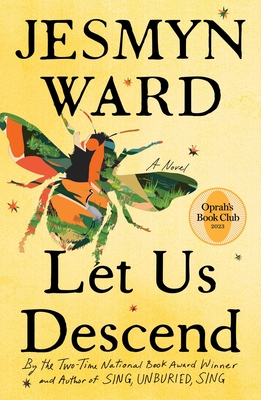 Let Us Descend: A Novel
Publication Date:
October 24th, 2023
Usually Ships in 1 to 5 Days
Jesmyn Ward is one of the most important writers of our time. This may be her best to date. Heartbreaking and gorgeous, Annis carries us through her story of loss and brutal enslavement — a story of strength, love, enduring, and finding a way.
November 2023 Indie Next List
Description
OPRAH'S BOOK CLUB PICK • Instant New York Times Bestseller • Shortlisted for the 2024 Carnegie Medal for Excellence
From Jesmyn Ward—the two-time National Book Award winner, youngest winner of the Library of Congress Prize for American Fiction, and MacArthur Fellow—comes a haunting masterpiece, sure to be an instant classic, about an enslaved girl in the years before the Civil War.
"'Let us descend,' the poet now began, 'and enter this blind world.'" —Inferno, Dante Alighieri
 
Let Us Descend is a reimagining of American slavery, as beautifully rendered as it is heart-wrenching. Searching, harrowing, replete with transcendent love, the novel is a journey from the rice fields of the Carolinas to the slave markets of New Orleans and into the fearsome heart of a Louisiana sugar plantation.
 
Annis, sold south by the white enslaver who fathered her, is the reader's guide through this hellscape. As she struggles through the miles-long march, Annis turns inward, seeking comfort from memories of her mother and stories of her African warrior grandmother. Throughout, she opens herself to a world beyond this world, one teeming with spirits: of earth and water, of myth and history; spirits who nurture and give, and those who manipulate and take. While Ward leads readers through the descent, this, her fourth novel, is ultimately a story of rebirth and reclamation.
 
From one of the most singularly brilliant and beloved writers of her generation, this miracle of a novel inscribes Black American grief and joy into the very land—the rich but unforgiving forests, swamps, and rivers of the American South. Let Us Descend is Jesmyn Ward's most magnificent novel yet, a masterwork for the ages.
 
Praise for Let Us Descend: A Novel
"[Ward's] most masterful work yet... Pitting ancestral wisdom and human connection against the arbitrary brutality of slavery, this book will have readers torn between wanting to savor the richness of every sentence and needing to know, immediately, what happens next."
—Oprah Daily
"Overwhelming . . . This is a novel of triumph. . . . Running up against the limits of faith in the face of calamity, Annis eventually hammers out a relationship to the spirit world, complete with a rough-hewn existential philosophy that is both revolutionary and entirely consistent with the tools at her disposal."
—Washington Post
"Ward is one of America's finest living writers… Ward's mesmerizing sentences, her dazzling descriptions of the natural and unnatural, the way she coerces time and guides readers between a heartbreakingly familiar story of torment and moments of sublime tenderness, suggests a protean artist in her element."
—San Francisco Chronicle
"Superb . . . Angry, beautiful, raw, visceral, and heartfelt, Let Us Descend is the literary equivalent of an open wound from which poetry pours. . . .  Ward has taken Black history in a  time of racial and political turmoil and used it to scream about grief and injustice, but also about beauty, queer love, history, determination, and joy."
—NPR
"Jesmyn Ward does not miss. The fourth novel from the two-time National Book Award winner, MacArthur 'Genius' fellow, and heir apparent to Toni Morrison is every bit as haunted, furious, and beautiful as 2017's Sing, Unburied, Sing... Let Us Descend is another triumph."
—LitHub
"Ward finds a traveling companion in [Toni] Morrison's style . . . even as she makes them her own. Let Us Descend joins a list of distinguished neo-slave narratives."
—Minneapolis Star Tribune
"In 2017, I read Sing, Unburied, Sing as a tour de force declaration of Ward's full emergence as an artist in total command of American English and a master of the novel form. Her new novel doubles down on that declaration."
—Boston Globe
"Jesmyn Ward is reimagining Southern literature…competing with giants like William Faulkner, while mapping territory all her own…Let Us Descend asks us to imagine how we are to live a life here in the present, honoring the past while not being beholden to it."
—New York Times Magazine
"[A] powerful historical novel."
—New Yorker
"Searing and lyrical...raw, transcendent, and ultimately hopeful...A shimmering and breathless proclamation of loss and deliverance set against the monstrosity of human slavery...One of the most important voices in contemporary literature."
—Atlanta Journal-Constitution
"A searing and vivid work of historical fiction."
—Vanity Fair
"Harrowing, immersive, and other-worldly, this tale of survival and rebirth in the dark heart of the American South is another triumph for two-time National Book Award winner Ward."
—People Magazine
"A devastating, deeply moving masterpiece."
—Good Housekeeping
"Annis's story, told in Ward's musical prose, is nothing short of epic, magical, and intensely moving."
—Vogue
"Imaginative... Combining magical realism with historical fiction, two-time National Book Award winner Jesmyn Ward's fourth novel tells the story of Annis, an enslaved girl in the antebellum South... To survive, she must tap into the mystical in this heart-wrenching narrative of the American South in the age of slavery."
—Time
"Ward's writing is breathtaking in its brutal honesty of life among slavers and is also lyrical in the moments of imaginative escape."
—The Denver Herald 
"A new novel from Jesmyn Ward is always a reason for celebration… In this magical realist masterwork, Ward writes with lyric brilliance about women's resilience in the face of heartbreaking odds."
—Esquire
"This harrowing, haunting story about an enslaved girl in the years before the Civil War is inspired in part by Dante's Inferno and the descent into the underworld... Ward, the youngest winner of the Library of Congress Prize for Fiction, among many other distinctions, turns her brilliant gaze to the grief and joy of the Black American experience."
—W Magazine
"An articulation of grief and sadness unlike anything I've ever read…. While Ward never flinches from the horrors of slavery or the deep scars it has left on America's political and social landscape, it's Annis's unwillingness to succumb to grief and loss that makes Let Us Descend such a powerful novel."
—Locus Magazine
"Shatteringly beautiful . . . In yet another masterwork, pain and sweetness alike haunt Annis. But she keeps walking."
—Garden & Gun
"Two-time National Book Award-winner Jesmyn Ward (the first woman and the first Black American to achieve that feat) follows her fierce and tender novel Sing, Unburied, Sing with a historical narrative about survival, iron will and spiritual rebirth. Taking its title from Dante's Inferno, the story follows Annis through the hell of enslavement and the saving grace of ancestral memories."
—LA Times
"Ward's writing is like a spirit that flits and flies, landing on Annis' painful reality while also going deep into the rich inner world that sustains her in a hellish time and place."
—Financial Times
"Now, Let Us Descend joins a list of distinguished neo-slave narratives — stories about much more than slavery that include Colson Whitehead's The Underground Railroad, Octavia Butler's Kindred and, of course, Morrison's Beloved."
—The Seattle Times
"Annis is strengthened by stories of her warrior ancestors as she struggles to retain her sense of self through the pain and terror of her journey."
—St. Louis Post-Dispatch
"The power and artistry of Ward's work has been celebrated with numerous major awards, and her new novel will be a magnet for readers."
—Booklist (starred review)
"[Ward] employs her prodigious skills to craft a deeply moving and empathic story... This testament to Ward's mastery of language should leave readers scrambling for a highlighter."
—Library Journal (starred review)
"Readers won't be able to turn away."
—Publishers Weekly (starred review)
"Saturated with terror and enchantment… What gives this volume its stature and heft among other recent novels are the power, precision, and visionary flow of Ward's writing."
—Kirkus (starred review)
"Jesmyn is, quite simply, the best of us."
—Ta-Nehisi Coates
"In Let Us Descend, Jesmyn Ward resurrects an enslaved girl out of the lost folds of the antebellum South, twists magic through every raindrop, mushroom, and stalk of sugar cane, and drops you into the middle of her harrowing, unendurable, magnificent song. This is a gripping, mythic, bone-pulverizing descent into the grim darkness of American slavery—and yet somehow this novel simultaneously leaves you in awe of the human capacity to not only endure, but to ascend back to the light. A spectacular achievement."
—Anthony Doerr, author of Cloud Cuckoo Land and All The Light We Cannot See
"This harrowing, haunting story about an enslaved girl in the years before the Civil War is inspired in part by Dante's Inferno and the descent into the underworld... Ward, the youngest winner of the Library of Congress Prize for Fiction, among many other distinctions, turns her brilliant gaze to the grief and joy of the Black American experience."  
— W Magazine, Most Anticipated of Fall
"The reason to read it is her writing. These comparisons can be glib, but I can't not think about Toni Morrison when I read her work — just the casual brilliance and lyricism of the language. That nothing ever feels forced, even if it's otherworldly and poetic. And the way she makes you feel the grain of every moment of joy and suffering."
—KCRW (Los Angeles NPR)
"Ward's prose shivers with the weight of heartbreak and her story shimmers with myth and memory. Another slamming, gut-punch of a novel from the two-time National Book Award winner."
—Amazon Books (Best of the Month)
"Ward's writing is breathtaking in its brutal honesty of life among slavers and is also lyrical in the moments of imaginative escape. The author does a splendid job of not only depicting harsh realities but also offering the possibility of a better life, illustrating how, as she so eloquently put it, "enslaved people might have retained their sense of self, their sense of hope in a time and place that attempted to negate both, day in, day out." 
—Denver Post
"A strikingly written, and confronting portrayal of slavery… This is a book suffused with grief for slavery, but never devoid of hope and love."
—Sydney Morning Herald
"Shortly before the American Civil War, an enslaved young woman named Annis is sold South in a fit of rage by the enslaver who fathered her. Separated from her mother and lover, Annis is chained to a group of women forced to walk through swamps and unforgiving terrains from North Carolina to Louisiana. She's joined on her journey by haunting memories, sympathetic spirits, and ancestors from the other side."
—BookRiot
"To read Jesmyn Ward is to be carried by her epic, transformative language to the dark heart of the American South and, once there, to be surprised by the stark beauty of the region's people…captivating…Ward writes in the traditions of William Faulkner and Toni Morrison, but this story is unmistakably her own…[Annis's] thoughts sing with Ward's signature lyri­cism."
—BookPage (starred review)
"It is as close to a new Toni Morrison novel as one could hope to get from another fantastically talented African American female writer…Let Us Descend is sure to cement Jesmyn Ward's reputation as a writer whose books will stand the test of time."
—Bookreporter
"A genre novel mixing historical fiction with fantasy and using both to craft a powerful narrative of enslavement and resistance… Ward delivers a moving defense of the strength and persistence of mother love."
—4Columns
"From Carolina rice fields to the slave markets of New Orleans and on to a Louisiana sugar plantation, the enslaved young woman Annis endures a hellish march, surviving through memories of her warrior grandmother; her mother's love and training; her absent love, Safi; and an anarchic group of elemental spirits. It's no spoiler to point out that the brilliant Ward employs a Dantean structure as Annis makes her descent and, at last, her rebirth." 
—Los Angeles Times (Best Books of October)
"Accomplished… Ward's skills light up this historical, allegorical work as they have lit up her novels about her native ground on the Gulf Coast. Anyone with an imagination can be a fantasist. In Let Us Descend Ward shows once more her formidable gifts as a novelist."
—HotToddy.com
"Let Us Descend is a story of hardship, mistakes, and one brutal journey after another. It is a story of loss, grief, and devastation. But above all else, it is the journey of a woman, her mother, and her grandmother, and of these characters' legacy of courage and strength. It is a story of both origin and resilience, and of descending into the inferno and coming out the other side. Let Us Descend is a novel of lush prose, and a prolific history of sadness succeeded by hope."
—Southern Review of Books
Praise for Jesmyn Ward's Sing, Unburied, Sing
"Ghosts, literal and literary, haunt nearly every page of Sing, Unburied, Sing — a novel whose boundaries between the living and the dead shift constantly, like smoke or sand. Set on the Gulf Coast of Mississippi, the book's Southern gothic aura recalls the dense, head-spinning prose of William Faulkner or Flannery O'Connor."
—Entertainment Weekly
"However eternal its concerns, Sing, Unburied, Sing, Ward's new book, is perfectly poised for the moment."
—The New York Times
"Staggering ... A furious brew with hints of Toni Morrison and Homer's The Odyssey."
—Boston Globe 
"Sing, Unburied, Sing, which is longlisted for a 2017 National Book Award, establishes Ward as one of the most poetic writers in the conversation about America's unfinished business in the black South."
—The Atlantic
"Some chapters sound like fairy tales. This, and her ease with vernacular language, puts Ward in fellowship with such forebears as Zora Neale Hurston and William Faulkner."
—The New Yorker
"[A] tour de force ... Ward is an attentive and precise writer who dazzles with natural and supernatural observations and lyrical details ... she continues telling stories we need to hear with rare clarity and power."
—O, the Oprah Magazine
"Macabre and musical... Her lyrical language elevates desperation into poetic reverie … a gripping and melodious indictment of modern racial injustices."
—Atlanta Journal-Constitution
"If William Faulkner mined the South for gothic, stream-of-consciousness tragedy, and Toni Morrison conjured magical realism from the corroding power of the region's race hatred, then Ward is a worthy heir to both."
—The Dallas Morning News