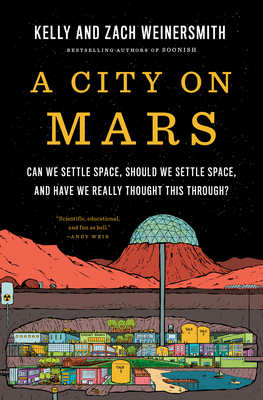 A City on Mars: Can we settle space, should we settle space, and have we really thought this through?
Publication Date:
November 7th, 2023
Usually Ships in 1 to 5 Days
Description
* THE INSTANT NEW YORK TIMES BESTSELLER * Scientific American's #1 Book for 2023
* A New York Times Book Review Editors' Choice * A Times Best Science and Environment Book of 2023 *
"Exceptional. . . Forceful, engaging and funny . . . This book will make you happy to live on this planet — a good thing, because you're not leaving anytime soon." —New York Times Book Review
From the bestselling authors of Soonish, a brilliant and hilarious off-world investigation into space settlement
Earth is not well. The promise of starting life anew somewhere far, far away—no climate change, no war, no Twitter—beckons, and settling the stars finally seems within our grasp. Or is it? Critically acclaimed, bestselling authors Kelly and Zach Weinersmith set out to write the essential guide to a glorious future of space settlements, but after years of research, they aren't so sure it's a good idea. Space technologies and space business are progressing fast, but we lack the knowledge needed to have space kids, build space farms, and create space nations in a way that doesn't spark conflict back home. In a world hurtling toward human expansion into space, A City on Mars investigates whether the dream of new worlds won't create nightmares, both for settlers and the people they leave behind. In the process, the Weinersmiths answer every question about space you've ever wondered about, and many you've never considered:
Can you make babies in space? Should corporations govern space settlements? What about space war? Are we headed for a housing crisis on the Moon's Peaks of Eternal Light—and what happens if you're left in the Craters of Eternal Darkness? Why do astronauts love taco sauce? Speaking of meals, what's the legal status of space cannibalism?
With deep expertise, a winning sense of humor, and art from the beloved creator of Saturday Morning Breakfast Cereal, the Weinersmiths investigate perhaps the biggest questions humanity will ever ask itself—whether and how to become multiplanetary.
Get in, we're going to Mars.
Praise for A City on Mars: Can we settle space, should we settle space, and have we really thought this through?
"An exceptional new piece of popular science . . . Forceful, engaging and funny… an essential reality check for anyone who has ever looked for home in the night sky . . . hilarious. The breezy prose is studded with charming cartoons . . . This book will make you happy to live on this planet—a good thing, because you're not leaving anytime soon." —New York Times Book Review

"Engaging . . . breezy . . . honest yet hilarious . . . delightful cartoons sprinkled throughout the book are sure to pull chuckles out of you." —Space.com
 
"Laugh-out-loud-funny." —Scientific American
 
"Mix of expertise and humor . . . In a world hurtling toward human expansion into space, A City on Mars investigates whether the dream of new worlds won't create nightmares, both for settlers and the people they leave behind." —Daily Kos
 
"Hilarious, highly informative and cheeky book . . . use[s] humor and science to douse techno dreams with a dose of reality . . . Even as they shoot down a long list of space fantasies, they explore a lot of really interesting research." —Christie Aschwanden, Undark
"Entertaining and informative romp through what's stopping us from moving off-planet . . . Well researched and argued, it's also a very fun read." —Jennifer Rothschild, Arlington Magazine

"Full of some of the choice-iest bits of awkward human space exploration histories and theories . . . could have been the research notes for an Ursula K. Le Guin, or a James S. A. Corey story, except that it's filled with jokes, palette cleansing anecdotes and charming cartoon illustrations . . . a popular science book that reads like a conversation with a friend . . . you can't get away from this book without thinking about how precious life on Earth is." —Mark Popinchalk, Astrobites
"Helpfully pulls back the curtain on some of the lesser-discussed challenges to humanity's off-Earth pursuits . . . Any reader enthusiastic about space settlement will find much to appreciate in this book . . . [The Weinersmiths] write with a confident belief that humanity will one day travel off-planet." —Science
"Science writing is rarely as readable (or deflating) as A City on Mars, an informed, irreverent study of how little we actually know of the practical considerations of space colonization, from sex and legal cannibalism to issues of settlement." —Chicago Tribune, 75 Top Picks for Fall
"Starting life anew somewhere far, far away sounds appealing. But that fantasy is so much further from realization than we think, argues this wife-and-husband-team persuasively." —MIT Tech Review
"Inventive, funny, and informative . . . Filled with fun illustrations that bring the writing to life, this accessible and thought-provoking book explores what it will really take to build a society on another planet." —American Scientist
"Helpfully pulls back the curtain . . . painstaking research, clear-eyed objectivity, and good-natured humor . . . Any reader enthusiastic about space settlement will find much to appreciate in this book . . . most importantly, they write with a confident belief that humanity will one day travel off-planet."—Gifford J. Wong, Science

"A must-read!" —Jonathan McDowell, Center for Astrophysics, via X
"Excellent . . . sets out persuasively and amusingly why you would have to be wildly optimistic or crushingly stupid to want to set up a space settlement any time soon." —Stephen Bush, FT
"A very funny book, underpinned by deadly serious questions about the future of humanity." —Ben Spencer, 19 Best Science and Environment Books of 2023, The Times (UK)
"Wickedly irreverent . . . The cheeky tone is loads of fun, and Zach's humorous illustrations of, for instance, contraptions proposed to facilitate zero-gravity sex, entertain . . . A boisterous takedown of techno-utopianism." —Publishers Weekly (starred review)
"Immersive and entertaining . . . the Weinersmiths' passion and enthusiasm shine through every page of this absorbing, lively exploration." —Booklist (starred review)
"An entertaining illustrated assessment of space settlement. This book is, to put it simply, a romp . . . A fun, informative read that puts the pop into popular science." —Kirkus

"There is simply no more engrossing, entertaining, or thorough way to understand the intense challenge of humanity's off-Earth future than A City on Mars. I laughed the whole way through." —Hank Green, New York Times bestselling author of An Absolutely Remarkable Thing and host of CrashCourse and SciShow
"Scientific, educational, and fun as hell."—Andy Weir, New York Times bestselling author of The Martian and Project Hail Mary 

"Listen up, humans. How to poop in space will be the least of our concerns. Herein are challenges most space-heads, including me, never even considered: not just technological, but legal, ethical, geopolitical.  Despite the breadth and depth of research and some impressive near-wonk-level detail, this is a clear, lively, and hilarious read.  Slam dunk, Weinersmiths!"—Mary Roach, New York Times bestselling author of Fuzz and Packing for Mars
"This might be the best book ever written about humans in space, or at least the funniest. I don't know of anything else quite like it: an extended, comical confrontation between the dreams of space colonies and the gross, dangerous, tedious realities. Read it before you go." —Scott Aaronson, Schlumberger Chair of Computer Science and Director of Quantum Information Center, University of Texas at Austin
"Of the many books and extensive literature on Space mission architectures, technical and otherwise, this is the only one that is a must-read to understand the deep financial, physiological and technical constraints of one of the largest and most ambitious endeavors of our time: enabling humans to become a multi-planetary species." —Professor Sinead O'Sullivan, member of the Advisory Council of the European Space Policy Institute
"A fun, and sobering, exploration of what it means to explore beyond our planetary home. Sure, the stars beckon and TV shows and movies make space travel seem like a blast, but before you invest in another billionaire's crypto-powered Mars colonization dream, you might want to pick up this book and learn about the risks, astronomical costs and thorny ethical issues involved. The Weinersmiths take you on a journey to our unlikely future on other planets with impressive detail, eye-opening facts, and extremely funny cartoons." —Jorge Cham, author of Oliver's Great Big Universe and creator of PHD Comics

"Earth may not be perfect, but we evolved here. Everywhere else in the Universe will try heartily to kill you in nasty ways. The Weinersmiths logically and patiently lay out the case that if we want to live in space, there's a lot of ground work to do first. If you're a gung-ho Moon and Mars enthusiast, this book will show you why it's best to slow down the space race just a bit."—Phil Plait, writer of the "Bad Astronomy Newsletter"

"A City on Mars is deeply researched, hilarious, and sobering. Zach and Kelly Weinersmith have given us a bracing to-do list for the new age of space. Highly, highly recommended." —James S.A. Corey, author of The Expanse series
"A refreshing, clear-headed breath of life-support oxygen amidst all the tech-bro naivety and hype on space colonisation. Impeccably researched and argued, yet witty and very easy to read. Superb!" —Professor Lewis Dartnell, New York Times bestselling author of Being Human