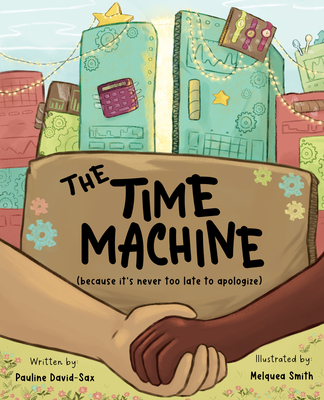 The Time Machine: Because it's never too late to apologize
Publication Date:
October 2nd, 2023
Publisher:
Cardinal Rule Press
Usually Ships in 1 to 5 Days
Description
When apologizing to her best friend proves too difficult, Bailey feels her only hope lies in building a time machine to return to the day she said something mean. 
Bailey's building a time machine... not to visit ancient Egypt or King Arthur's court, but to take her to last Thursday. That's the day she said the Thing that made her best friend so mad. But when it's complete, Bailey discovers the only thing harder than building a time machine is having the courage to revisit a moment you regret.
About the Author
Award-winning author and a longtime educator, Pauline David-Sax, likes to think of writing as a time machine that allows her to revisit the past, examine the present and explore the future. She is the author of the picture book Everything In Its Place as well as several plays. Pauline lives in Brooklyn, New York.
Melquea Smith is an illustrator who has experience wanting to unsay the Thing, even now as an adult! When not illustrating, you can find her hoarding artbooks like a dragon, concocting tea blends like a witch, and cuddling her sweet tabby cats. Melquea is the illustrator of Two Homes in Omar's Heart (2021) published by Room to Read and is illustrating another picture book with Includas Publishing (2023). She is a SCBWI member and an admin of #BlackCreatorsHeadquarters, an organization that supports and amplifies Black stories in the Publishing industry.